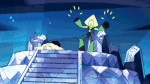 "You have to fix this!"
Whitney Cogar is a freelance illustrator based in Savannah, Georgia. She specializes in sequential art such as comics and storyboards. She is a colorist for the 2017 Steven Universe comic series and has also done storyboards and art assets for the film "The Conspirator" as well as art assets for the film "X-Men: First Class".
Comics Worked On
External Links
Ad blocker interference detected!
Wikia is a free-to-use site that makes money from advertising. We have a modified experience for viewers using ad blockers

Wikia is not accessible if you've made further modifications. Remove the custom ad blocker rule(s) and the page will load as expected.