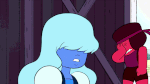 "I saw that this was a possibility..."
This article contains information about content officially released prior to its television premiere. Take caution when reading.
This article is about White Diamond's Pearl. You may be looking for another Pearl.
White Pearl is a Homeworld Gem that belongs to White Diamond. She first appeared in "Legs From Here to Homeworld".
Appearance
White Pearl's features are typical for a Pearl, though do bear some notable differences. She has a monochromatic color scheme, with white skin, black and grey clothes, and pale grey hair, which is twisted into two Princess-Leia-inspired buns that are held to the sides of her head. She wears a black top that resembles a bralette with grey sleeves that function as gloves, a white tulle skirt that leaves the front of her legs exposed, and a pair of black shorts paired with grey stockings and light grey flats. Her most prominent feature is the atypical scarring over her left eye, which is lined with cracks that extend to the chin, hairline and hair bun of her physical form, completely covering the (presumably missing) eye. As her gem appears undamaged, the source of the scarring is currently unknown. Her gemstone is located on the upper part of her navel and is an unfaceted oval-shaped cabochon, bearing similarities to that of the Crystal Gems' Pearl.
Personality
White Pearl is shown to express rather unsettling, robotic behavior. She absently gazes into the distance when speaking, bears a constant smile, remains poised en pointe with her arms held upward in a graceful position, and moves without physically making an effort, as though she is simply floating along on her toes. This altogether gives the impression of a vacant mind, making her appear as though she is a robot. Her voice is different from the other Pearls, having a more refined voice, similar to her Diamond's.
History
White Pearl approaches the Crystal Gems and the Diamonds when they arrive on Homeworld. She emphasizes the fact that Pink Diamond, and only her, is wished to be seen by White Diamond. White Pearl suddenly encloses herself and Steven inside her shell and transports him to White. Once she has done so, White Pearl phases through a wall, disappearing.
Abilities
White Pearl is assumed to possess standard Gem abilities.
Unique Abilities
Levitation: This is White Pearl's primary method of getting around, as shown in "Legs From Here to Homeworld".
Intangibility: As shown in "Legs From Here to Homeworld", White Pearl is capable of phasing through solid material. However, it is unclear if this is her own ability, or due to the technology of White Diamond's ship.
Relationships
Although their relationship is unknown, White Pearl is shown acting as a messenger for White Diamond. Additionally, White Diamond seems to have allowed White Pearl to move around as she wishes.
White Pearl was assigned to bring Pink Diamond (as Steven) to White Diamond. Not much is known in terms if they had any type of relationship.
"

It's White's Pearl...

"
—Blue Diamond, "Legs From Here to Homeworld"
White Pearl is shown to be dismissive of Yellow and Blue Diamond, denying them entrance into White Diamond's ship without a complaint from either of them. The two even showed a degree of intimidation towards her.
Episode Appearances
Trivia
Since White Pearl is also voiced by White Diamond's voice actress, Christine Ebersole, White Pearl is the only Pearl seen so far not to be voiced by Deedee Magno-Hall.
White Pearl is the first Gem encountered thus far to possess physical damage to her form despite not being corrupted or cracked.

By extension, she is the only one-eyed Pearl shown thus far.

White Pearl is currently the only subordinate of White Diamond to be named/specified on-screen.
White Pearl's hairstyle is similar to the one of Princess Leia from the Star Wars franchise.
| Image | Description |
| --- | --- |
| | White Pearl's gemstone is located on her upper navel. It is an ellipsoidal cabochon (facetless). |
Gallery
Screenshots
Official Artwork