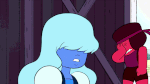 "I saw that this was a possibility..."
This article contains information about content officially released prior to its television premiere. Take caution when reading.
Click
here
to see more of White Diamond's quotes.
White Diamond is a Homeworld Gem and the leader of the Great Diamond Authority that rules over the Gem race. She holds supreme authority over all Gems, including her fellow Diamonds, and is seen as a being beyond the rest of her kind. She has not left the Gem Homeworld in eons and remains secluded inside her ship. She made her debut in "Legs From Here to Homeworld".
Appearance
White Diamond has white spiky hair in a shape similar to a star pentagon and white skin. She is shown to be larger than her fellow Diamonds. Like the other Diamonds, she has diamond-shaped pupils, but hers are white instead of black, and she has large, full, black eyelashes. As shown in the flashback sequence in "Your Mother and Mine" and an official Hot Topic t-shirt[1], she has long, black fingernails. Her gemstone is located on her forehead, and is a side view of a round-cut diamond.
She wears a long translucent white dress that reaches the floor, shoulder pads, and a pair of intricately detailed dress sandals with high heels. She also wears a cape with black and gray stripes that is lined with glimmering diamond and star designs.
White Diamond is unique in that her body constantly radiates a bright light. Due to this (and possibly the brightness of her ship), her gemstone is barely visible, and only her eyes, nostrils, eyebrows, and mouth are visible because they're either black or have black outlines. A drawing by Rebecca Sugar, however, does show the obscured details,[2] as does the Hot Topic t-shirt.
Personality
Little is known about White Diamond's personality. She is described as being difficult, and that she has a temper that can take a while to cool down.
Upon meeting with Steven, she appeared both calm and understanding, yet curt and dismissive. She greets Steven (as Pink Diamond) warmly and with motherly affection, despite his appearance bearing no resemblance to how Pink Diamond actually looked. In addition, she treats the entire affair with the Earth, including the Rebellion, Pink's faked shattering, and her absence for the last 6,000 years with a mixture of patronization and nonchalance, remarking it all being simply one of "Pink's games" and asks Steven (as Pink) if he "had fun" and "got it out of [his] system." She interrupts Steven whenever he tries to speak to her, and then immediately sends him away to another room without warning as soon as she is done.
History
White Diamond has existed for eons. Her exact past is unknown, but she was able to rise to power and become the ruling leader of the entire Gem race. White is said to have not left Homeworld in eons.
White appears to have had a close relationship with Pink Diamond, as she calls Steven a nickname (Starlight) and is very aware of Pink's childish nature. When Pink Diamond was shattered and Earth was no longer deemed to be a viable colony, White participated in the Corrupting Light attack that corrupted every Gem on Earth exposed to the attack.
Steven, the Crystal Gems, and the Diamonds travel to Homeworld to ask White for assistance in healing the Corrupted Gems. Before they even arrived at Homeworld, White appeared to already know that they were coming and that "Pink" was still alive because when they do reach the planet, Homeworld is cheering for the return of Pink Diamond.
White sends White Pearl to retrieve Steven, and when she does, White speaks to Steven as if he is Pink. White tells Steven that everyone is so relieved that Pink is alive and that she is relieved her little game is finally over. White then sends Steven to an unknown room.
Abilities
White Diamond possesses standard Gem abilities, but since she is a Diamond, her abilities are expected to be much greater than that of other Gems. Since both Yellow and Blue Diamond showed fear of her, it could be concluded that she is much more powerful than the other diamonds are.
Unique Abilities
Aura Projection: The Diamonds can project an aura around them that they can control. They can either radiate it from their entire bodies or emit it from specific parts of their bodies, usually their hands. Not much has been shown of White nor her aura, but during the Diamonds' final attack against the Crystal Gems, White's aura was shown around her hand as a solid white corona-like flare around it.

Corruption Induction: Though the attack was meant to destroy the Crystal Gems, it corrupted every single remaining Gem on Earth.
Relationships
"

We'll be lucky if she ever speaks to us again after this.

"
—Yellow Diamond, "Legs From Here to Homeworld"
Yellow and Blue Diamond appear to fear White Diamond, describing her as difficult and temperamental to Steven and wishing to avoid telling her about Pink's true fate. Yellow believes that if she were to speak to White on Steven's behalf, then her reaction would not be so severe. Ultimately, White denies both of them entrance into her ship.
"

As for this latest little game of yours, thank the stars it's over. Did you have fun? Did you get everything out of your system?

"
—"Legs From Here to Homeworld"
White Diamond appears to have had a relationship with Pink Diamond like that of an older sister, mother or grandmother. Upon seeing Steven (who she, like the other Diamonds and Homeworld Gems, believes to simply be Pink), she calls to him endearingly with the nickname, "Starlight." Despite this, she does not take Pink seriously even more-so than the other Diamonds, brushing off her actions on Earth as if it were just a child's game.
Like all the Diamonds, White owns a personal Pearl. Little is known of their relationship. She is only seen acting as a messenger for White Diamond, escorts Steven to her, and then immediately leaves White's presence when she finishes her task.
Episode Appearances
Trivia
Prior to being mentioned in the show, White Diamond's name was first seen alongside the names of the other three Diamonds along with their specific themes.[3]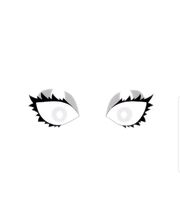 She owned the most colonies at the time of Earth's colonization.
Prior to White Diamond's debut, a fan had met Patti LuPone after a performance of War Paint, a musical she starred in that was running on Broadway at the time. After complimenting her on her voice work as Yellow Diamond, Patti told the fan that Christine Ebersole, her co-star in the musical, was the voice actress for White Diamond. While never confirmed, it eventually proved to be true.[4]
During San Diego Comic-Con 2018, Cartoon Network held a "3-D photobooth" for Steven Universe. When fans received their "3-D" image, a clip was attached at the end teasing White Diamond with a brief animation of her eyes blinking.[5]
White Diamond is drawn in the style of the show's background art.

However, on a Hot Topic t-shirt she is drawn the same way as any other character in the series.

Rebecca Sugar took inspiration from the illustrations of Nell Brinkley when designing White Diamond.
According to Rebecca Sugar in Argentina Comic Con, her personality is similar to her Pearl, and has different problems than Yellow and Blue.
| Image | Description |
| --- | --- |
| | White Diamond's gemstone is located on her forehead. It is in the shape of an upright five-sided diamond similar in appearance to the side view of a Round Brilliant Diamond Cut. |
Gallery
Screenshots
Animations
Official Artwork
References