"What Are Gems?" (full title: "The Classroom Gems: What Are Gems?") is a short released on Cartoon Network's site. The short has Pearl teaching the viewer and Steven about Gems.
The video can be watched here.
Synopsis
Steven learns about Gems from Pearl.[1]
Plot
The short is set in a classroom-like setting, featuring Steven as a student and Pearl (along with Garnet and Amethyst) as the teacher. She teaches Steven what Gems are.
Pearl teaches that the Gem's simplest form is just their gemstone, and they use light to project a human figure, "like a hologram, but with mass." She then explains that when Gems are inflicted serious injuries, they will retreat back into their gemstones to regenerate a new form. Garnet poofs and bubbles Amethyst, demonstrating a Gem's inability to regenerate when contained in certain objects. It is revealed that if the gemstone becomes cracked, the Gem's physical form may become distorted. It is also revealed that if the gemstone is shattered, the Gem ultimately ceases to exist.
While Garnet chases Amethyst around, Steven asks a question about what happens if a Gem is half-human. Pearl replies with, "The answer is you!" She then tells Steven to write an essay about himself and what it's like being him, to which he asks what an essay is. Pearl then quickly announces that class is dismissed, and the short ends.
Characters
Trivia
A Steven Universe bumper that Cartoon Network regularly airs features the scene where Garnet chases Amethyst. This bumper has been shown on the network for several weeks prior to the actual short's release, confusing fans.
Every character in this short is portrayed as a small, "chibi-esque" version of themselves.
At the beginning of Pearl's lesson, Ruby and Sapphire's gems are shown (before combining to form Garnet).
Cultural References
The short is an homage to the Gunbuster OVA Omake "Science Lessons".[2]
Transcript
View the episode's transcript here.
Gallery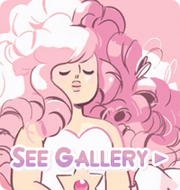 References