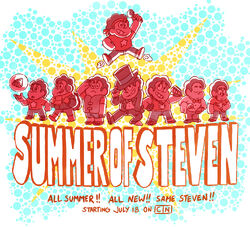 Summer of Steven, also known as Steven's Summer Adventures[1], was a special event that started on July 18 and lasted until August 12.[2] It concluded the third season of the series [3] and also marked the beginning of the fourth season, with "Kindergarten Kid" and "Know Your Fusion".[4]
Schedule
The event featured a new episode every weeknight at 7:00 EST (00:00 UTC) starting on July 18 until August 12.[3]
Episodes
Promotional Videos
Promotional Images
See more
References
Ad blocker interference detected!
Wikia is a free-to-use site that makes money from advertising. We have a modified experience for viewers using ad blockers

Wikia is not accessible if you've made further modifications. Remove the custom ad blocker rule(s) and the page will load as expected.