Home
Talk

5
376pages on
this wiki
New Here?

Try stopping by our Chatroom to meet up and talk with other Steven Universe fans. The Steven Universe Wiki would love to have you!
Welcome to the Steven Universe Wiki, user! This is an online portal for Steven Universe that anyone is free to edit. Take a look around! The portal will become more populated with information as it becomes available.

Having debuted November 4th, 2013, Steven Universe is a coming-of-age story told from the perspective of Steven, the youngest member of a team of magical Guardians of the Universe. The animated series was conceived as part of the shorts development initiative at Cartoon Network Studios, and is related by Emmy and Annie Award-nominated writer and storyboard artist Rebecca Sugar (Adventure Time). Sugar is Cartoon Network's first solo female show creator.


[
Got a Favorite Episode and Character?
Then be sure to show your love for them on our character Top Ten List, here and our episode Top Ten List and here.
Loading RSS data...


Policies
Rules and Regulations

Images

Replacement Policy
Profile Policy

Fanon Policy

Thoughts about the show?
---
What excites you most about Steven Universe?
Now that you've seen Steven Universe what do you think of it?
What's your favorite Steven Universe song so far?
---
Featured Article Voting
What should be the featured article of August 2014?
[
Rose Quartz is the mother of Steven and former member of the Crystal Gems. According to Greg Universe, she has given her physical form up in order to give birth to Steven, while passing her Gem onto Steven as well. Rose Quartz had long curly pink hair in thick ringlets, pink lips and a heavier build than the other Crystal Gems. She was almost as tall as Garnet. Rose wore a strapless.....(Read More)
[
        

Source:Steven Universe Fan tumblr page
Please be aware that while on the StevenUniverse Wiki you must be signed in otherwise you cannot edit/comment. If you are of 13 years of age then click here to sign in and start editing!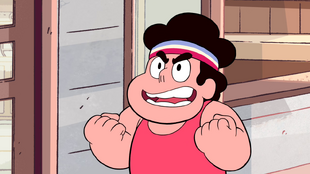 Coach Steven airs in
August 14, 2014 20:00:00 EDT
Steven's desire for some alone-time unlocks a new room in the Crystal Temple that answers his every wish.
TBA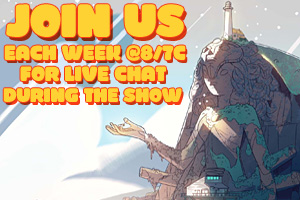 Enter the Crystal Palace
Create blog post
When Steven fuses with the other gems will the fusion be a man or a woman?  Would it be both? I feel like the show would get way to much flack for that.

Read more >

The Steven Universe panel is about to start at 10am Pacific, and if your not there (which I'm not either unfortunately) then you don't have to miss out! Cartoon Network will be tweeting out all the stuff that happens at the panel on their Twitter pa…

Read more >
See more >
For any fanon-related material, please go here. As we are trying to keep a good, clean, canonical database for fans of Steven Universe we don't want our Recent Activity to be cluttered with fanfictions on blogs or otherwise. However you may upload clean fanon pictures provided that they stay on your userpage and/or blog.
Here at the Steven Universe Wiki, we're always looking for ways to improve this wiki for our users. So if you have an idea as to how we can make this wiki anymore advanced, then please go over the rules here and then give us you're idea on its Talk Page.
To see our full activity go here