Steven Universe Mystery Minis is a miniature figure line that was released by Funko in August 2016. Originally they were going to be released in July, but there was a month delay. Each box has a random figure inside.
Where to buy
The entire set can be pre-ordered at EntertainmentEarth.com.
Merchandise
Steven Universe gets the mini-figure treatment! Half-human and half-gem, Steven embarks on a magical adventure as he learns more about his magical abilities and the guardians of the universe called the Crystal Gems.
List of figures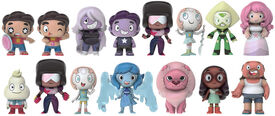 This set includes 12 individually blind-packaged figures which may include (but is subject to change):
Pearl, with her pre-regeneration outfit and her spear
Pearl, with her post-regeneration outfit
Amethyst, with her 2nd regeneration outfit
Amethyst, shapeshifted into Steven
Amethyst, with her 2nd regeneration outfit and whip (Hot Topic exclusive)
Garnet, with her post-regeneration outfit
Garnet, with her post-regeneration outfit and gauntlets
Steven, showing his gem
Steven, with star eyes and his shield
Steven, with 'Big Donut' shirt (GameStop exclusive)
Steven, smiling (Hottopic exclusive)
Rose Quartz, with 'Mr. Universe' Shirt and star eyes (GameStop exclusive)
Peridot, with her Limb Enhancers
Lapis Lazuli, with her wings
Lapis Lazuli, glow (Hot Topic exclusive)
Lion, glow (GameStop exclusive)