Steven Universe: The Return (V2) is a DVD that was released on June 7, 2016 by Warner Home Video, the retail price is $14.97. You can order it online here.
Description
Steven Universe
has returned to DVD! And things are getting a lot more intense in
Beach City
! There are crazy new surprises around every corner - more
Gems
, outer space, the secrets of
fusion
, and some
Crying Breakfast Friends!
Get caught up in the adventure when you believe in
Steven
!
Episodes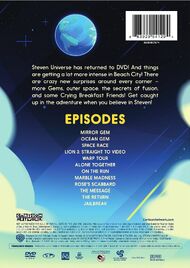 Ad blocker interference detected!
Wikia is a free-to-use site that makes money from advertising. We have a modified experience for viewers using ad blockers

Wikia is not accessible if you've made further modifications. Remove the custom ad blocker rule(s) and the page will load as expected.