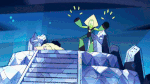 "You have to fix this!"
Steven Universe: Anti-Gravity is a graphic novel by KaBOOM! Studios that is available for preorder.[1] It will be released on November 1, 2017.[2]
Product Description[1]
Electromagnetic disturbances cause objects and people around Beach City to hover off the ground, and the gang goes to the Gem Temple to figure out what's happening.
Beach City has always been proudly weird, but when objects and people all around town mysteriously begin levitating... well, that's outright odd. To figure out what's happening, Steven and the Crystal Gems will literally have to travel to the moon and back! Writer Talya Perper and illustrator Queenie Chan come together for this way-out Sci-Fi tale featuring everybody's favorite Beach City Heroes.
Product Details[1]
Age Range: 8 – 11 years
Grade Level: 3 – 6
Series: Steven Universe (Book 2)
Paperback: 144 pages
Publisher: KaBOOM!; Not for Online ed. edition (July 25, 2017)
Language: English
ISBN-10: 1608869962
ISBN-13: 978-1608869961
Characters
Locations
Trivia
Cover Gallery
References