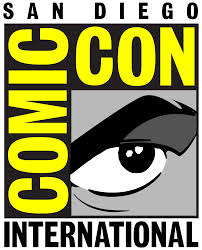 Originally titled the Golden State Comic Book Convention in 1970, San Diego Comic-Con has grown to become one of the largest multi-genre conventions.
SDCC has hosted official Cartoon Network events since the late 1990s. [1]
SDCC and Steven Universe
San Diego Comic-Con has hosted official Steven Universe panels since 2013.
2013
There was a Cartoon Network panel held Friday, July 19, 2013. The panel was about Uncle Grandpa, Steven Universe, and Clarence, attended by Rebecca Sugar and Ian Jones-Quartey.
2014
The panel was held on Friday, July 25, 2014 and attended by Tom Scharpling (who also acted as the moderator), Zach Callison, Michaela Dietz, Estelle, Deedee Magno-Hall, Jeff Liu, Rebecca Sugar, and Ian Jones-Quartey.
The panel opened with an in-character skit.
Season 2 was announced, and both seasons were confirmed to be 52 episodes long.

However, Cartoon Network later decided to split future seasons in two, with each later season having 26 episodes instead of 52.

A clip from Coach Steven was shown, revealing Sugilite and announcing Nicki Minaj as her voice actor.
2015
The 2015 panel was held on Friday, July 10, 2015. It was a combined Adventure Time & Steven Universe panel and was attended by Rebecca Sugar, Zach Callison, Estelle, and Ian Jones-Quartey (as well as Jeremy Shada, John DiMaggio, Olivia Olson, and Adam Muto of Adventure Time.)
Season 3 was announced.
Clips:
2016
2017
External links
Videos
SDCC 2013:
SDCC 2014:
SDCC 2015:
Signing posters
References