"

Is this happening to ice cream all over town!? This really is a crisis!

"
—Steven
"Political Power" is the 50th episode of the first season in Steven Universe, and the 50th episode overall.
Official Synopsis
The Gems cause a power outage in Beach City, and Steven helps Mayor Bill Dewey do damage control.[2]
Plot
The Gems (and Steven, who was told to go to bed) gather on the beach, with Pearl testing a new invention, a robot disruptor, on one of Peridot's robonoids. According to her, the device would have the power to create a localized energy blast that would be able to shutdown all of Peridot's robonoids along with Peridot. However, instead of knocking out the robonoid, Pearl's disruptor creates an EMP like effect that knocks out the power in Beach City. Pearl sees this as a start and plans to fix up the disruptor using parts from a washing machine.
The next morning, Steven prepares to cook breakfast, only to find the microwave not working. He then hears a knock on the door. Bill Dewey is there, asking for the Crystal Gems; he claims that he has been mayor long enough to know the power outage was caused by them. Steven calls Pearl up to the door, who tells Dewey that the power should be on either that night at the best, or never at the worst. The distressed mayor says that the people of Beach City need electronic distractions so they do not realize the very town they are living in is a "magnet for disaster." Steven takes responsibility from last night and decides to help Dewey clean up the mess around the town (as Garnet and the other Gems refuse to do so).
They travel in Dewey's van talking to the citizens and promising that the power will come back on by sundown, all while passing glow sticks and "Vote 4 Dewey" pins. Steven soon learns that Dewey has been lying to the public in the name of politics. Dewey explains that when working for the government, he cannot control the situation, but can control the people's reactions to it in order to keep them safe and prevent rioting. He vaguely relates this problem with a place called Ocean Town.
Back at the temple, Steven overhears the Gems talking about the imminent arrival of Peridot, and any other Gems Lapis Lazuli claims is joining her. They immediately change the subject the moment they see Steven meet up with them.
The sun finally sets and the power has not come back on. The citizens start to riot by tipping over Dewey's van. Steven jumps on the tipped over van and dissolve the commotion, saying that they will get through these tough times together and that Dewey only lied to keep them safe.
Understanding what Dewey went through, Steven returns home to confront the Gems about Peridot. Garnet only tells him that Peridot is "a modern Gem with modern Gem technology", and that alone makes them fearful of things to come. Steven assures that they will all figure something out together, just as the power throughout Beach City is finally restored.
Features
Characters
Beach City Residents
Locations
Objects
Trivia
In the storyboard process, Onion's bat had nails on it, but they were removed.
This is the first episode to not have a song as the ending theme. Instead, there is only static.
It is revealed that the Quartizine Trio is being stored under the Beach House's porch.
This episode draws in a question that fans have been pondering for quite some time - what Steven considers the Crystal Gems as when it comes to a family dynamic, when Bill Dewey asks about Steven's sisters to his puzzlement.

This is also rather similar to the issue in "Fusion Cuisine" where Garnet, Amethyst, and Pearl are said to merely be his guardians.

Lapis, Peridot, Bill Dewey, Pearl, Rose, young Greg, Ronaldo, Sadie, Steven, Jenny, Sour Cream, Lars, and Mr. Smiley can be seen in the promo art.
It is revealed that Bill Dewey has a crush on Pearl.

This is after Bill Dewey called Pearl, "The hot one."
He also seemed nervous while he was speaking to her since he had trouble talking.

There was once a town called Ocean Town, but it's unclear what happened to it.

It is implied by Bill Dewey that Ocean Town's mayor could not take control and everyone went crazy.

It's further suggested that this event occurred in recent history, from Mr. Fryman's laughing "too soon" after Bill Dewey jokes about the town's fate.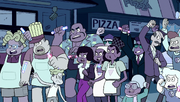 When the citizens are about to revolt against Bill Dewey, his bodyguards can, ironically, be seen as part of the angry mob.
Cultural References
Continuity
One of Peridot's Flask Robonoids makes another appearance, this time being used to test out Pearl's robot disruptor.
The Quartizine Trio from the episode "Rose's Scabbard" is covered with a tarp under the house.
Steven eavesdrops on the other Gems discussing Lapis Lazuli's warning in "The Message", brainstorming what to do about Peridot's inevitable arrival and the allegation that she's bringing reinforcements.
Errors
In one scene, the donut from Lars' work uniform is missing, in the next scene it's there.
In the same scene where the mayor's bodyguards are part of the angry mob, Mr. Smiley's mouth wasn't colored in.
Transcript
View the episode's transcript here.
Gallery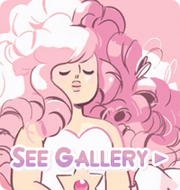 Videos
References
Ad blocker interference detected!
Wikia is a free-to-use site that makes money from advertising. We have a modified experience for viewers using ad blockers

Wikia is not accessible if you've made further modifications. Remove the custom ad blocker rule(s) and the page will load as expected.