Pearl's Swords are swords used by Pearl, Connie, Holo-Pearl, and Holo-Connie.
Appearance
Pearl's swords are simplistic in design and are made out of ordinary Earth metals. They feature a straight hilt with a hand guard commonly used for sabers and cutlasses.
Adult saber - This sword has a brown hand grip, light bronze square hand guard with two brown horizontal stripes on the side of the guard. It sports a straight blade with a double edged tip. Note this particular sword is common among all known appearances of Holo-Pearl.
Youth saber - This sword is used by Connie while training with Pearl. It has a brown hand grip, a silver dome shaped hand guard that angles down parallel to the hand grip and connects back at the pommel. The sword has a straight blade and ends with a one sided tip.
History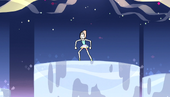 Pearl's swords were first seen when Pearl summoned them in her room after retrieving one of her lost swords from Amethyst's room.
Pearl used her preferred sword to show Steven "proper" sword-fighting technique in her arena. She also equipped Holo-Pearl with an identical sword.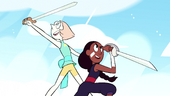 Pearl taught Connie how to sword fight using her swords. Multiple Holo-Pearls used swords as well.
Pearl was seen wielding swords while attacking the Cloud Arena and while guarding the rebels' hideout.
Holo-Pearls are seen using them once more, this time as a fusion against Stevonnie.
Trivia
Gallery