"

I'm going to bring the ocean back, or get really thirsty trying.

"
—Steven
"Ocean Gem" is the 26th episode of the first season of Steven Universe, and the 26th episode overall.
Official Synopsis
The ocean disappears on the first day of summer, and Beach City is in a panic.[2]
Plot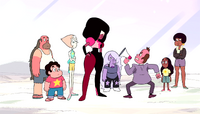 Ocean Gem starts with the Gems angrily telling Steven that he is grounded for disobeying orders. Amethyst mistakenly takes this literally and threatens to bury Steven until he learned his lesson. Before the Gems try to take away his privileges, Greg shows up and tells them to come outside where the Gems see that the ocean is missing. Mayor Dewey, nervous and shouting loudly, blames the Crystal Gems. He cries, claiming that no one will come to "Desert" City. Garnet tells him that it was Lapis Lazuli, and Pearl explains the current situation. Still upset, Mayor Dewey frantically begs them to fix it. Steven, while inside the Beach House, prepares to find Lapis, as he acknowledges that the whole situation was his fault. Not wanting him to be alone, Connie, Greg, and Lion all want to join him on his quest, with the Gems adding in that they obviously have to go. Garnet also adds that Steven is ungrounded. As the Gems, Steven, Connie, Lion, and Greg are leaving, Mayor Dewey sadly starts a hose, and starts to pour the water into what used to be the ocean.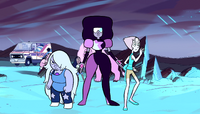 While driving, Greg plays some music that Rose liked, and Garnet, greatly disliking it, jumps out of the van. She spends the rest of the trip riding on top of the van. Before they arrive Steven questions why Lapis is fighting them. Pearl admits that not all Gems are good, and explains that the monsters they fight were Gems that became corrupted and broken. When they arrive, they see a large tower of water that leads into the sky. Lapis, sensing them, yells that they should not be there and should leave her alone, and Steven responds that they are not leaving unless they get the ocean back. Lapis then makes water clones of the Crystal Gems, and the Gems fight them. During the battle, Greg gets his leg broken by the water clone of Steven when it makes the van drop facedown from a height. Steven, telling Lapis that he does not want to fight anymore, activates his shield due to his anger towards Lapis for attacking Greg and Connie, and his fierce feeling of love to protect them. The resulting vibration from the attack deflecting off of Steven's shield force the water clones to dissipate. Then Steven, telling Lapis that he is coming up to see her, goes to the top of the tower to talk to Lapis.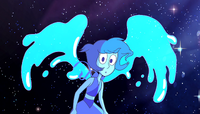 Lapis explains that she does not believe in protecting Earth and wants to go back home, but her gem is cracked, so she was commanding the ocean to make a tower that could take her to her home. Steven, remembering his healing powers, fixes her gem in return for the ocean. When her gem is fixed, Lapis' eyes are healed, and she gains wings made out of water. Thanking him, Lapis flies off into space. Suddenly, the tower falls and Steven falls with the tower. Teaming up, Lion and Connie are able to catch him before he lands. As the Gems, Steven, Connie, and Greg return, the residents of Beach City congratulate him as their hero. Garnet acknowledges that Lapis made it off the planet, and Pearl asks what it means for them. Garnet says to wait and see. Steven says goodbye to Lapis Lazuli wherever she may be, as the star iris closes on a glimmering sparkle far away.
Features
Characters
Objects
Locations
Music
Instrumental Songs
Trivia
Cultural References
Continuity
Errors
Transcript
View the episode's transcript here.
Gallery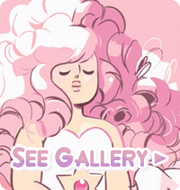 Videos
References