"S.", or the Mystery Girl, is a character that first appeared in "Last One Out of Beach City". 
Appearance
S. bears a close resemblance to Rose Quartz, as pointed out by Steven. She has voluminous medium-length hair that is dyed a light shade of pink. She has defined lips with a gray ring pierced on her lower lip, and a slightly dark-peach complexion. She has a heavy build and is taller than Pearl, roughly around Garnet's height. She has green eyes and wears dark gray eye shadow and has thick eyelashes, and, aside from the aforementioned lower lip piercing, she has three gray piercings on each of her ears, with highest and middle piercing smaller than the lowest one.
In "Last One Out of Beach City", she wears a white (with a slight hue of pink) crop top with what looks like a simplified animal design, and with the sleeves rolled up. She also wears dark gray pants with the right leg having a rip near the knee, and black combat boots. She has a jacket tied around her waist; the jacket having various rectangular designs in varying shades of green similar to a camouflage design.
Relationships
"

I asked her about her hair, and then she asked how I colored mine. I told her, "My appearance is just a conscious manifestation of light", and she said, "I know how that is", although, heh, I highly doubt it. Oh! And then I added, "By the way, I saved your planet, and your species, and you're welcome".

"
—Pearl, "Last One Out of Beach City"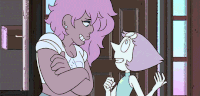 Although not noticing Pearl at first at the Big Donut, Mystery Girl catches up to Pearl while driving, and flashes her a smile. At Mike Krol's concert in Ocean Town, she "checks Pearl out" before shaking her hand. The two discuss her dyed hair, and briefly, the Rebellion. Before leaving, S. gives Pearl her phone number, a form of showing romantic attraction.
Episode Appearances
Trivia
According to Lauren Zuke, Mystery Girl's piercings were inspired by their World of Warcraft character.
Lauren Zuke says they were "calling her 'Sheena' in [their] head" as a reference to the song "Sheena Is a Punk Rocker" by the Ramones.[1] Her actual name is unconfirmed.

According to Zuke's blog, Mystery Girl is a smoker (though this will never be confirmed onscreen, since Cartoon Network does not allow smoking to be shown).

S.'s phone number is 301-555-0189. The area code (301) corresponds to western Maryland, while numbers of the form 555-01XX are reserved for fictional use.
Along with Onion and Rainbow Quartz, S. is one of the few characters with an important role that has not said a word.
Gallery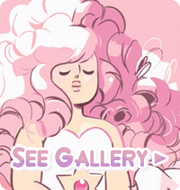 References