These are all pieces of media that have appeared in Steven Universe, but hold no significant nor recurring role.
Books and Magazines
How to Talk to People
How to Talk to People is a book read by Steven in the episode "Sworn to the Sword", and by Mayor Dewey in "Dewey Wins". Steven needed it to help him speak to Connie about how Pearl's influence on her was bothering him, and he lends it to Dewey in "Dewey Wins" to help him prepare his second speech of the election.
It appears to be a guide that helps readers communicate with other people. Only two pages are seen in the episode, showing a two step-process for talking to someone. Step 1 is to "think of what you want to say" and Step 2 is to "say it".
Pretty Hairstylist
Pretty Hairstylist is a manga series read by Amethyst and Lapis Lazuli in Steven Universe. It first appeared in "Keeping It Together", and has made additional appearances in "Crack the Whip" and "Kindergarten Kid".
NOICE
NOICE is a (presumably adult) magazine owned by Lars in the episode "The New Lars".
Brigand
Brigand is a book read by Nanefua in the episode "Buddy's Book". It appears to be an adult romance novel.
FOINE
FOINE is a fashion magazine first seen in Beach Party. It's later seen being read by Sadie in the episode "The New Crystal Gems".
Lonesome Lasso
Lonesome Lasso 
is a comic
first seen in
The Question
, it is most likely about a cowboy trying to find a character called 'Sally May' Lonesome Lasso and Sally May get married at the end of this comic.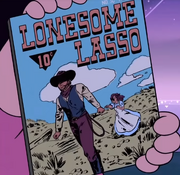 Carrion Amongst The Clover
Level 2 Canon
This page contains content that is considered "level 2 canon" and may be contradicted by the TV series.
Carrion Amongst The Clover is a book Connie Maheswaran owned in Issue 7 of the Steven Universe Comic Series.
The plot involves a princess named Mearl of North End (a parallel to Pearl) who adopts a fake identity to run away from her responsibilities. From there, her experiences outside her kingdom help reunite her people with those from the "Heavy Sphere", with whom they have been feuding for centuries. Eventually, with events that are unexplained, she is saved by Sir Argarate and his squire Peapod and returns to her homeland. Upon returning, she finds her mentor, Everlord of the Everlands, had been banished behind the Shadow Curtain, which one can never pass through without being broken down into mere Essence.
Movies & TV
Lonely Blade IV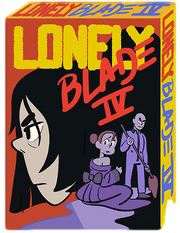 Lonely Blade IV is a fictional Japanese film the Crystal Gems watched in "Steven the Sword Fighter". It is the fourth entry in the fictional Lonely Blade film series.
The story centers on Lonely Blade, a sword fighter hunting for the evil force that had killed his brother. The mastermind behind the evil is revealed to be the custodian and is the one that battles Lonely Blade at the end of the movie.
Lonely Blade V
Lonely Blade V is a movie first seen in the episode "Steven the Sword Fighter". It is the continuation of Lonely Blade IV.
The story takes place after Lonely Blade IV where Lonely had already managed to avenge the death of his brother, but finds out that he might still be alive somewhere.
Canine Court
Canine Court is a TV show within the canon of Steven Universe. It appears to take place in a courtroom, and the cast is thought to consist only of animals. Little is known about it overall due to the brevity of its single appearance in "Joking Victim". It is unknown whether it (within the canon of Steven Universe) is live-action or animated, though the dog judge's hands/paws do not resemble those of other dogs shown in Steven Universe, but resemble a human's hand.
The show takes place in a courtroom, with a canine being the judge to a case. It is likely a comedy show because the canine does not seem serious and likely cannot speak.
Under the Knife
Under the Knife is a fictional TV show that is first seen in "Fusion Cuisine". The show is a satirical spoof of hospital dramas. It follows stories of unusual medical situations overseen by a doctor and nurse.
There is one known episode, focusing on a patient who has his legs inserted into his brain. This episode is the "mid-season pre-finale".
Characters include:
Fangs of Love
Fangs of Love is a movie Sadie owns in "The New Lars".
The movie seems to be a low budget, romantic horror movie.
Sadie's movie collection
A collection of movies seen on Sadie Miller's shelf in "The New Lars":
Fangs of Love
Hellhound

The first two letters of this film's box are covered by a sticker, censoring the word "hell", a word which Cartoon Network does not allow to be used.

It Came From Beneath The Sink
Creeptasm III
Dream Ghost
The Rotten Forgotten
Enjoy The Violence
Critter Crematorium
SliceTown
Exposed Brunch
Caligula: The Documentary
First House On The Right
Evil Bear
The Organ Pickler Part VII
Redrum
As seen in "Sadie Killer":
The Lurch
Archduke of Space
Boss Feratu
Galactic Insubordination
Head in a Box
Malevolent Cadavers 7
Return of the Army of the Malevolent Cadavers 3
Weevilbread
An unknown title featuring Dr. Priyanka Maheswaran and a Cluster Gem on the cover.
Koala Princess
Koala Princess is an anime series watched by Ronaldo Fryman and Jane. In "Restaurant Wars", Jane is on her way to return some of Ronaldo's DVDs of this series, only to find him seemingly dating Kiki Pizza, causing her to break up with him.
References to this anime series are shown on screen in "Keep Beach City Weird" when Ronaldo discusses "sneople" controlling things like anime dicussion forums. The series is referenced again in Ronaldo's texts to Steven in "Gemcation".
I Can't Believe My Stepdad's My Sword
I Can't Believe My Stepdad's My Sword is an anime watched by Ronaldo Fryman. In "Rocknaldo", he owns a replica of a sword from this anime.
Music
Space Train to the Cosmos
Space Train to the Cosmos is an album released by Greg Universe, best known by his stage name "Mr. Universe".
The album was released by Mr. Universe with Marty as his manager. His only known song is on the album, titled "Comet".
Nietzsche's Breakdown
The Philosophy Majors - Nietzsche's Breakdown is an album that belongs to Greg which had debuted in "We Need to Talk". It later appeared in "Greg the Babysitter".
In the background, a big moon shines behind a dry tree with silhouettes of people on the hill looking on it. In the front, there is what appears to be Friedrich Nietzsche in a black suit, a red tie, wearing glasses, and eating an apple. His white/blond hair is combed back. In the lower right corner, "Nietszche's Breakdown" is written in a purple-red color. Beneath it, there are two red apples.
Trivia
A brief five-second guitar riff that plays in the "mid-season pre-finale" may be Under the Knife's theme song.
Under the Knife is a parody of General Hospital.
Connie isn't allowed to watch "Under the Knife" because her mother thinks it doesn't represent a real emergency room and doesn't understand its purpose.
The appearance and purpose of How to Talk to People are references to How to Win Friends & Influence People by Dale Carnegie.
I Can't Believe My Stepdad's My Sword might be a parody of Soul Eater .