This is a list of Gem technology that has appeared but holds no significant nor recurring role.
Yellow Diamond Flare Signal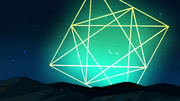 The Yellow Diamond Flare Signal is a flare signal that emitted from Peridot's Escape Pod in "Joy Ride".
The Yellow Diamond Flare Signal displays a complex web of geometric shapes overlapping each other into the sky when fired. The signal is composed entirely of straight lines of yellow light. Diamonds, squares, rectangles, and other various polygons can be seen within the signal.
It is unknown whether or not other Gem ships from Homeworld, such as the Gem Warship, possess the ability to emit the Yellow Diamond Flare Signal.
Gem Satellite
Level 2 Canon
This page contains content that is considered "level 2 canon" and may be contradicted by the TV series.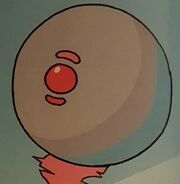 The Gem Satellite is a mobile headquarters for Gem scouts collecting core samples on potential colony planets in "Steven Universe: Anti-Gravity".
The Gem Satellite appears in the Moon Base where it suffering from a malfunction. Pearl then finds that the computer regulating the satellite's operations is running tons of applications making her to shut them all down. While Amethyst and Steven check out other areas of the satellite to make sure nothing else is wrong, until an alarm goes off in the satellite and they find that a phaser is charging to shoot at Earth. Ronaldo using his radio telescope communicates with the Crystal Gems, and miraculously he makes a couple of suggestions that inspire them on how to turn the systems off, desactivating the satellite for once.