This is a list of all minor locations that have appeared but hold no significant nor recurring role.
Wiener in Hand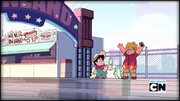 Wiener in Hand is a business featured inside the Beach City Funland boardwalk, and made its first appearance in "Bubble Buddies". Little is known about this business, due to its brief appearance.
There are signs of what the menu of the business could have (such as a sign for ice cream, a sign for a hot dog, etc.). There is also a fan inside.
In "Too Short to Ride", the "Wiener in Hand" sign says "Hot Dogs" instead, possibly because the original name has a mature double-entendre sound to it.
Aqua-Mexican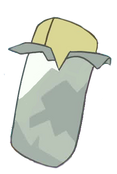 Aqua-Mexican was a restaurant situated in Beach City, and it was first mentioned in "So Many Birthdays". As the name implies, the restaurant specialized in Mexican seafood cuisine. According to Steven, Aqua-Mexican closed down five years ago.
Danny's
Danny's appears to be a candy shop in Beach City. It is seen in the background in the episode "Bubble Buddies" as Steven is sitting on top of a float in the Boardwalk Parade during Steven's flashback about Connie losing her bracelet.
It has a sign with a plastic-wrapped candy with the word "Danny's" below it and some unknown writing. Being a background building, it doesn't have much detail on it, making it look a little rusty.
Classic Thyme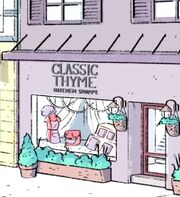 Classic Thyme is a kitchen shop that first appears briefly in "Onion Trade".
It has a light lavender and beige façade. Two plants hang on either side of the front door, and there is a planter in front of the large display window. The display window contains a mannequin adorned with an apron and a chef's hat. There also appears to be books or magazines and other miscellaneous kitchen items in the window display.
Mini Golf Course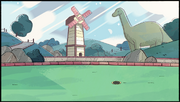 Mini Golf Course is a golf course that first appeared in the ending of the episode "Rose's Room".
The only parts of the golf course shown are a section of the green with a red brick border around it, green trees, brown bridges and hills across the horizon, a light tan windmill with brown frames and a brown roof, and a tall, green plastic dinosaur prop.
Suitcase Sam's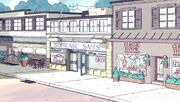 Suitcase Sam's is a boutique store in Beach City, first appearing in "Onion Trade". Its products consist of an assortment of bags, suitcases, and luggage.
Suitcase Sam's is a very elegant store that is a part of a commercial walk in the middle of Beach City. It has a beige color scheme and a muted brown interior. The inside consists of shelves lining the walls filled with all manner of branded suitcases and leather bags. The main part of the store has a counter on which Suitcase Sam deals business with customers, including Onion.
Hospital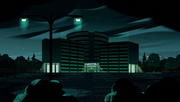 The Hospital is a location that first appeared in "Nightmare Hospital". Connie's mom, Dr. Priyanka Maheswaran, works there. The doctors there once thought some Cluster Gems were car accident victims, but they were poofed and bubbled by the combined efforts of Steven and Connie. The events that transpired and the hospital itself were mentioned in "Gem Hunt".
The Hospital consists of a central circular building with two rectangular wings off to the sides. It is a gray, multi-story building with the main entrance leading to the center and two fire exits located at the end of the wings. The floors are patterned with white, gray, and black tiles. After dinner, most of the lights in the building are turned off or dimmed to conserve electricity.
Within the two wings are rooms for patients. Each room has a window facing toward the hallway. Every room has a bed for the patient that can be concealed using a curtain that hangs from a bar connected to the ceiling.
Yellow Diamond's Control Room
Yellow Diamond's Control Room is a location first seen in "Message Received", when Peridot contacts Yellow Diamond and Yellow Pearl through the communicator.
Not much is known about Yellow Diamond's control room, aside from the fact that it appears to be in space, and near or inside of an asteroid field.
In "Message Received", Yellow Diamond is seen in the control room using holographic terminals to access information quickly. These terminals presumably possess the same functionality as the Moon Base terminals.
It is similar in style and technology to the Moon Base, though they are not identical.
Only a white floating chair atop a stepped diamond-shaped altar can be seen from the inside, seemingly where Yellow Diamond works. There is a large glass wall made up of triangular panels separating the control room from the outside where several asteroids float in space both near and far.
The Great North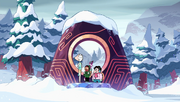 The Great North is a location that first appeared in "Gem Hunt". Connie, along with Pearl and Steven, goes on her first official Gem mission here. The Orange Great North Monster and Snow Monster used to roam in the area before Jasper poofed and captured them for her corrupted Gem army. In "Crack the Whip", Garnet and Pearl travel here off-screen to search for Jasper, unsuccessfully since she already left to attack the Crystal Temple.
The Great North is a large snowy wilderness with trees. Behind its warp pad is a giant Wailing Stone, while the rest of the landscape is a typical snowy wilderness. The snow is several feet deep in places and inhabits a small abundance of wildlife due to the freezing temperatures in the location. Several mountains are shown surrounding the area.
The Great North could possibly be Canada since its nickname is "the Great White North". Or other Northern countries or locations like Russia or Alaska.
Flower Meadow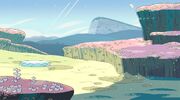 The Flower Meadow is a location first introduced in "Warp Tour". It is a grassy meadow with large patches of lavender pink heart-shaped wildflowers. These flowers are tall enough to tower over someone of Steven's height and in the distance a hill can be seen. A warp pad sits in the middle of the meadow.
The Crystal Gems warp here to defeat an unknown corrupted Gem. They return later to investigate what Steven had allegedly seen in the warp stream. Steven is shown to be allergic to the flowers' pollen.
T-Shirt Shop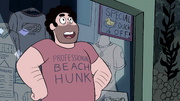 T-Shirt Shop is a business along Beach City's boardwalk. Steven visits the shop while contemplating growing up. He ends up buying a big shirt saying "Professional Beach Hunk" on it.
T-Shirt Shop is a fairly nondescript building that features a display window at the front of the store showing various beach-themed t-shirts inside. On the window, there is a sign that lists the store hours (illegible), a "Help Wanted" sign, and a sign that reads "Special Duck 1/2 Off!" Hanging inside the bottom half of the door is a sign with the words "[Ye]s, we're open" in all capital letters. On the side of the building is a sign that simply reads "T-Shirt Shop", but in the original opening sequence to the show, the sign can be seen with the words "Beach City" and "To The Tee" written on it and also features a drawing of a shirt with a smiling face and other illegible text.
In "Greg the Babysitter", Sour Cream and Onion's mom, Vidalia, got her first job at the T-Shirt Shop shortly after Sour Cream was born.
Underwater Sword
The Underwater Sword is the unofficially-named structure at the bottom of the ocean near Beach City. It was first seen in "Bubble Buddies". It appeared again in "Ocean Gem", clearly visible after Lapis Lazuli took the ocean away.
To current knowledge, the sword is a structure similar to that of the Crystal Temple's. However, there is no proof that it was ever a part of the Temple, only circumstantial evidence based on its size and location.
Forest
Forest is a location that first appeared in "Onion Gang".
Ad blocker interference detected!
Wikia is a free-to-use site that makes money from advertising. We have a modified experience for viewers using ad blockers

Wikia is not accessible if you've made further modifications. Remove the custom ad blocker rule(s) and the page will load as expected.