Minor Human Characters are humans who have been shown and identified, but, as of yet, hold no significant nor recurring roles.
Handsome Hank Hackleschmidt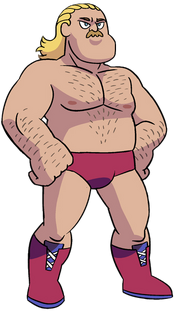 Handsome Hank Hackleschmidt is a minor character who made his debut in "Tiger Millionaire", as one of Tiger Millionaire and Purple Puma's opponents for the Tag Team Belt. He is partners with Dashing Danny Doober.
He is muscular with slicked-back blond hair, a tan colored mustache, blue eyes, multiple black hairs on his upper chest and arms, red underwear, and dark red boots with violet soles.
Dashing Danny Doober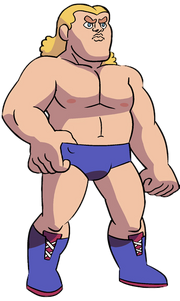 Dashing Danny Doober is a minor character in Steven Universe. His first appearance was in the episode "Tiger Millionaire", as one of Tiger Millionaire and Purple Puma's opponents for the Tag Team Belt. He is partners with Handsome Hank Hackleschmidt, together they make The Good-Looking Gang.
Dashing Danny Doober appears to have a very bulky build. He has blond curly hair that reaches to his shoulders. In the wrestling matches, he wears blue underwear along with blue boots with white laces.
Greg's Aunt and Uncle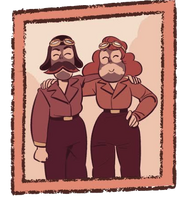 Greg's Aunt and Uncle are characters who were first mentioned and pictured in "Space Race".
Greg states that his aunt and uncle had a great love for aviation. They cherished the years they spent together, and they held onto every belonging that they ever owned. These belongings are currently housed in a large shed in Beach City. Greg realizes that his family almost never throws anything away and thinks his family "has a problem". It is revealed in "Maximum Capacity" that an uncle of Greg's, possibly the same, aviation-loving uncle, lived in a mansion, which Greg now owns the deed to. However, he apparently lost it.
In Gem Harvest, it's revealed that they were Andy DeMayo's parents, and were known as The Daring DeMayos.
It is implied that they are deceased, because Greg mentions in "The Return" that if Steven isn't safe, Greg will "run fresh out of family".
Greg's Aunt Deb
Greg and Andy's aunt. After Greg moved away from their hometown, she and her partner got an RV and moved away.
Greg's Grandfather
Greg and Andy's grandfather. After Greg and Deb moved away, he moved to the Keys. Eventually, he stopped visiting because he was too old to make the drive on his own.
Gary
Gary is a politician that talks to Mayor Dewey over the phone in "Joking Victim". He is said to have went to a meeting with Mayor Dewey to help set up the largest bowl of ice cream in Beach County, and was aware of the possibility that it could melt.
Dr. Stromberg
Dr. Stromberg is a doctor who works at a hospital. They were in charge of treating one of the Cluster Gems, and is the person who calls Dr. Maheswaran to tell her that another Cluster Gem was found. Dr. Stromberg is mentioned again by Dr. Maheswaran in "Storm in the Room", where the latter states that she had to cover for one of Dr. Stromberg's patients again, implying it has happened before.
Dr. West
Dr. West is a doctor who works at the hospital, and is mentioned by Dr. Maheswaran.
Dr. Gero
Dr. Gero is a doctor who works at the hospital. Steven and Connie walk by their office while trespassing through the hospital. Dr. Gero is a reference to the Dragon Ball Z villain of the same name.
Marty's Roadies
Marty's roadies appeared in the episode "Drop Beat Dad". Their names were not stated in the episode, as well as where they are from. The first roadie appears to have a mint green hat, as well as mint green pants almost stretching down to his heels. He wears a white shirt with sangria outlines near the shoulder and neck areas. He also has reddish hair and salamander orange shoes. The second roadie has brown skin with and thick black hair halfway covered up by an aqua colored hat. He has a sky blue jacket tied around his waist and has ankle length grey pants, his shirt is white and the shoulder coverings appear to be torn off, he has glasses and black gloves on, they both appear to be Marty's roadies, as they are seen helping him carry the speakers for his Guacola show.
William Dewey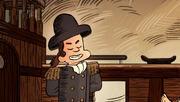 Captain William Dewey is the ancestor of Mayor Bill Dewey, as well as the founder of Beach City. He was the main character of a play portraying the foundation of Beach City, and was played by Steven.
Originally deemed a failure and a dunce, he took a ship with a crew including his first mate, Buddy, in search of a new land. After he and Buddy were almost killed by some form of sea creature, they were saved by an Unknown Gem Fusion and placed safely in what would eventually be known as Beach City. It was said by Pearl that William Dewey and the Crystal Gems were friends. Pearl also said that he lived 200 years ago.
Suitcase Sam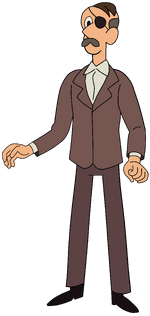 Suitcase Sam
is the owner of the small-time business
Suitcase Sam's
. He appears to have some sort of friendship with
Onion
. He wears a brown suit, along with an eye patch covering his left eye, although in "
Onion Gang
" it was revealed that his left eye is actually perfectly healthy. He is voiced by
Lamar Abrams
.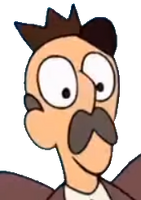 Jane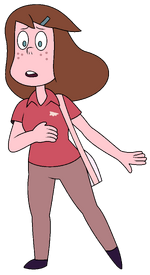 Jane was first shown in episode "Lion 2: The Movie" working at the ticket counter of the movie theater. She later appears in "Beach City Drift" and in "Restaurant Wars". She is voiced by Deedee Magno-Hall.
She had been dating Ronaldo for quite sometime, until she broke up with him after witnessing him pretending to flirt with Kiki in a ploy to stop their fathers from feuding and mistake him for cheating on her in "Restaurant Wars". Ronaldo calls her Jane-chan or his "ohime-sama", which means princess in Japanese. In an entry on his blog Ronaldo expresses how he is positive they'll get back together again.
She has about shoulder-length rosewood-brown hair with teal-green eyes and a matching hair clip. She also wears a red uniform with a white name tag. She has freckles below her eyes.
She seems to enjoy watching anime, since she borrowed a Koala Princess DVD from Ronaldo. She also seems to be quite a dork, as she was Ronaldo's girlfriend, and not only put up with, but loved Ronaldo's dorky and eccentric personality.
The Best Diner in the World's Waitress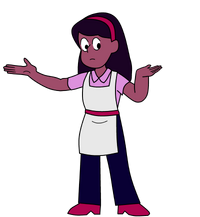 The Best Diner in the World's Waitress appeared in "Keystone Motel" when Greg, Steven, Ruby, and Sapphire ate at The Best Diner in the World.
She has brown skin and black hair with a reddish-magenta hairband. She wears a bright-pink collared shirt under an apron with navy-blue pants and low-heel pumps in the same reddish-magenta color.
Chunk Truck
Chunk Truck is a minor character who made his first appearance in "Tiger Millionaire", as one of Tiger Millionaire and Purple Puma's opponents. He is partners with Concrete Heat.
He is voiced by Zachary Steel.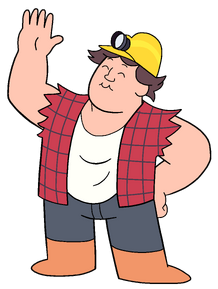 He has brown hair with a miner's hat on top. He wears a sleeveless vest underneath a checkered, red shirt. He also wears blue jeans which are tucked into his brown-orange boots.
Concrete Heat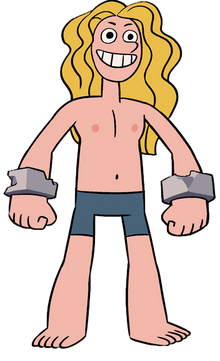 Concrete Heat is a minor character who made his first appearance in "Tiger Millionaire", as one of Tiger Millionaire and Purple Puma's opponents. He is partners with Chunk Truck.
Concrete Heat has a slim build and long, wavy blond hair. He wears broken, light gray concrete wrist-cuffs with slate blue boxer shorts, and he is shirtless.
Mayor Dewey's Bodyguards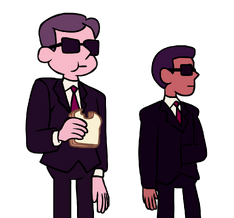 Mayor Dewey's unnamed bodyguards are two male Beach City citizens first seen in "Lars and the Cool Kids". They both wear sunglasses, a white dress shirt, a black suit, black pants and a red tie. One of them has light brown hair and pale skin, the other has darker skin and dark brown hair. The two are cowardly despite their job, but still appear to be deeply loyal to Dewey.
Ricky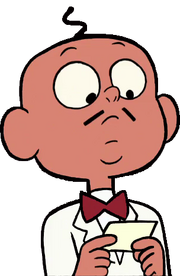 Ricky is the manager of Le Hotel in Empire City. He was first seen in "Fusion Cuisine". He was the waiter at the Crab Shack serving Connie, her mom and dad, Steven, Greg, and Alexandrite when they had dinner there. He appears again in "Mr. Greg", when Greg, Pearl, and Steven visited Le Hotel, where he works now. He is voiced by Eric Bauza.
Dante & Martha
Dante and Martha are the parents of Lars that debuted in "The New Lars". Their personalities are very similar to typical parents, wanting what's best for their son. They both become stressed out when Lars gets mostly failing grades on his report cards along with Lars usually yelling at them. Dante is voiced by Matthew Moy while Martha is voiced by Nancy Linary.
Jeff
Jeff is a student who attends the same middle school as Connie, first mentioned and in "Mindful Education". While walking during school, he accidentally bumped into Connie. Connie, due to her training, instinctively responded by grabbing him and throwing him onto the ground, injuring his arm. In shock, she ran away without saying anything.
After being taught by Garnet to confront her issues instead of avoiding them, she apologizes and befriends him the next day. To Connie's surprise, Jeff asks her to teach him some of her martial arts moves.
Mike Krol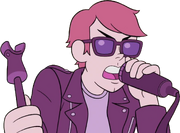 Mike Krol is a rock star musician who made his debut in "Last One Out of Beach City". He's voiced by the real-life musician Mike Krol.
Ad blocker interference detected!
Wikia is a free-to-use site that makes money from advertising. We have a modified experience for viewers using ad blockers

Wikia is not accessible if you've made further modifications. Remove the custom ad blocker rule(s) and the page will load as expected.