Minor Alien Characters are non-Gem aliens that have appeared, but have no significant recurring role as of yet.
Jungle Moon Inhabitants
These aliens inhabit the Jungle Moon, which first appeared in an episode of the same name. So far, all of them appear to have toothless beaks or beak-like structures, and also all lack a tail. Most of them also have the vital organs exclusive to the oral half of the body, which allows various effects.
Arthropod Aliens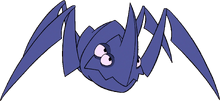 The "Arthropod Alien" is a species resembling a horned beetle which inhabit the Jungle Moon that appears in the episode "Jungle Moon".
They are pale-blue colored and have 4 eyes. A large horn extends upwards from the end of their beak-like snout, somewhat like a rhinoceros. When decapitated, they can sprout a new set of soft unarmored limbs from their head to escape; it's unclear whether or not the rest of the body can regenerate later.
These aliens resemble euarthropods in their body covering, and have a head with all organs, much like certain transitionary tardigrades.
Beaked Aliens
The "Beaked Alien" (called "Bird Blob" by Stevonnie) is an aggressive (or, at the very least, protective) volant species which inhabits the Jungle Moon from the episode "Jungle Moon".
They have a turquoise blue color, pink- or yellow-ish beaks, and have a single pair of limbs each ending in one claw. They have very blobby bodies that are much fatter on the lower side than on the upper side, hence their nickname given by Stevonnie. They are extremely small when young, but can grow to be much taller than a human. Beaked Aliens can roll into a ball-like shape to rapidly roll towards prey or away from threats. They can also fly by opening into a cup shape, and closing to pump out air, visually similar to jellyfish swimming.
These aliens appear to have all organs stored in the upper regions, a trait of gastropods and cephalopods.
Ungulate Aliens
The "Ungulate Alien" is a species which somewhat resembles earth's ungulates that inhabits the Jungle Moon that appear in the episode "Jungle Moon".
They have a turquoise blue color with pale yellow stripes, a tall camel-like hump on their back, a pinkish beak, and what appear to be hooves resembling those of an ungulate. They can shoot water out from the sides of their beaks, though the purpose of this is currently unknown.
These aliens appear to have their legs directly under them, much like mammals and most archosaurs.