Lion is a magical pink lion befriended by Steven in "Steven's Lion" whom occasionally comes to Steven's rescue. It is revealed in "Lion 3: Straight to Video" that Lion has some form of connection with Rose Quartz. This connection is explored further in the episode "Rose's Scabbard". Lion's mane contains a pocket dimension that houses many of Rose's belongings and also used to house Bismuth's gem.
Appearance
Lion has round ears, pink fur, black eyes, a soft light pink star-shaped mane, and a dark brownish-magenta heart-shaped nose. When Lion uses his magical abilities, his eyes and mane emit a white glow. There is a tuft of soft pink fur at the end of his thin tail.
Personality
Lion is an enigmatic creature whose sentience and sapience is somewhat questionable. However, he seems to act like a typical house cat, doing things like chasing butterflies in "Rose's Scabbard" and snapping at the dragonfly-like lights created by Sardonyx in "Cry for Help". Much like a normal animal, he rarely changes his expression and for the most part, he is quiet and docile. Though he is considered a "pet" for Steven, Lion looks after himself and often sees to his activities. While Lion does not seem to acknowledge Steven most of the time, he does appear to understand Steven to a certain extent, responding whenever Steven needs him in mysterious ways. "Lion 2: The Movie" shows this understanding when he takes him and Connie to Rose's Secret Armory. He remarks how he is not "trained very well", or how he nearly smothers Steven's face to show him the dimension in his mane when he said he wanted to know more about his mother in "Lion 3: Straight to Video".
History
Little is known about Lion's history before meeting Steven and the Crystal Gems other than the fact that he had affiliations with Rose Quartz before Steven was born. When Steven and the rest of the Crystal Gems are searching for the Desert Glass in "Steven's Lion", Lion is found by Steven in the middle of the desert. It can be assumed that this is where Lion lived before being found by the Crystal Gems. Steven is afraid of Lion at first but comes around to him quickly after realizing that he is not a threat. This leads to Lion following Steven back to the Temple and eventually joining the Crystal Gems.
While Lion's exact origins are unknown, Rose is shown talking to Jamie (Buddy Buddwick) in "Buddy's Book" many years ago with several regular earth lions surrounding her, in a similar desert to the one Lion was found in. This could be where her magical pink lion came from. However, none of the Crystal Gems knew about Lion before being introduced to him by Steven, implying that Rose never shared Lion's existence with Garnet, Amethyst, or Pearl.
Abilities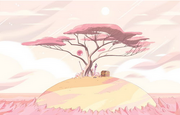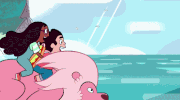 Episode Appearances
Trivia
Lion appears to like Lion Lickers, as shown in the episode, "Lion 3: Straight to Video", when he presses his face against the glass of the freezer holding the Lion Lickers. This attraction could just be because he is a lion.

In "Nightmare Hospital", Steven gives Lion Lickers to Lion to get him to stay in the Hospital parking lot. Lion seems enthralled by them, frantically attempting to reach the treat before the plastic is even off, to which Steven remarks about the animality of doing so.

Rebecca Sugar's pet cat is also named Lion.
Lion's ability to teleport might explain how he manages to follow the Crystal Gems back to the Temple in "Steven's Lion".
Lion usually sleeps near the house of the temple, as shown in "Fusion Cuisine" and in "Steven the Sword Fighter", when he is seen resting underneath the house.

In "Lion 3: Straight to Video", Steven allows Lion to sleep in the house in a bed he made for him.

One of the concepts designs considered for Lion is an "unsettling, silent caricature of a lion", like an "old medieval heraldry image. His face frozen into an uncertain grin except for his eyes which would follow Steven around while he creeped out the other Crystal Gems. He might not be pretty and actually kinda suspicious, but Steven loved him!".[1]
As revealed in "Rose's Scabbard", Lion can restrict who can enter his mane. Pearl is rejected initially in "Rose's Scabbard"; Pearl makes no further attempts since.

It should be noted that after reaching the Moon Base in "It Could've Been Great", Peridot can be seen sharing space with Steven and stepping out of Lion's Mane.

It is unclear how far Lion can teleport, but the furthest he has teleported so far is to the Moon while carrying Steven, Peridot, and the Crystal Gems. The jump to the Moon required several portals to stay open and is shown to exhaust Lion.
Steven states in "Lion 2: The Movie" that Lion "does his own thing most of the time".
Lion's portals are in the shape of diamonds and his teleportation theme features distorted accordions, the same instrument used in the theme songs for characters of the Diamond Authority.
When Lion saves Steven from the sandstorm in "Steven's Lion", Lion's color scheme changes and resembles the male Lions seen alongside Rose Quartz in the episode "Buddy's Book". His mane becomes darker than his body fur, changing from pink to cream-colored.
Galleries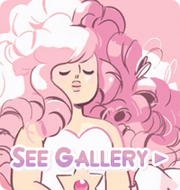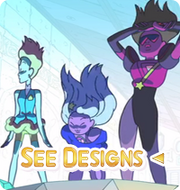 References