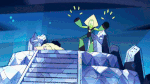 "You have to fix this!"
Kathleen "Kathy" Fisher is an American actress. She provides the voice for Fluorite.
Trivia
She has acted as a role—minor or large—in several different projects, including soundtracks and television shows. Examples of these include her composing the ending soundtrack for the short story/film titled "Promise Me", and her writing an episode for the Fox TV show "Bones".
External Links