"

If life can thrive here, then so can I. I've just got to hold out until Lars finds me. Until then... we survive.

"
—Stevonnie
"Jungle Moon" is the 12th episode of the fifth season of Steven Universe and the 140th episode overall.[2]
Official Synopsis
Stevonnie finds themself alone on an adventure.[3]
Plot
Following the space battle against Emerald, Stevonnie crash lands on the nearby jungle world. They try to contact Lars, but the "Star Skipper" is too damaged to do so. Stevonnie adapts to overcome their new strange environment while searching for a way off-world. They hunt food, pick fruit, and drink water from a pond with another alien lifeform.
At one point, Stevonnie is conflicted on whether to eat a baby bird-like alien since Steven finds it too cute and Connie knows they need protein. An adult alien of the same species (presumably its mother) attacks Stevonnie, so they run and find a hiding place. Stevonnie decides to camp there for the night and falls asleep in a hammock that they set up.
Stevonnie starts to dream, waking up inside of what appears to be Connie's house. Connie's mother, Dr. Maheswaran, is on the phone talking about an attack and colonization on the nearby planet. Stevonnie quickly moves in to interact with her. Dr. Maheswaran turns to face Stevonnie, and her eyes are yellow with black diamonds as pupils. She then turns into an amalgamation of Priyanka and Yellow Diamond while the house turns into a moon base. Stevonnie suddenly tries to get Yellow's attention, acting as though they are allies. They quickly get into an argument about why she can't have an army or a fleet, and declares that she is just as important as Yellow, hence she is entitled to these things. It is revealed that the dream is actually a past conversation between Yellow and Pink Diamond, represented by Stevonnie. Yellow is enraged by Pink's pestering, and snaps at her to start acting like she's important. This ultimately makes Pink mad, causing her to storm away from Yellow's control desk. Pink Diamond stops to look at herself in the reflection of the glass and, enraged by her argument with Yellow Diamond, she punches a window pane and cracks the glass in anger.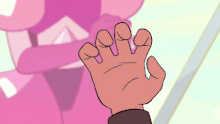 Stevonnie awakens, realizing that their dreams were actually a memory from the Diamonds and their location is the same building that was in the dream. Stevonnie heads up into the abandoned control room, realizing that the Diamonds' console could be a potential way to reach Lars. Using the console's activation sequence from their dreams, Stevonnie manages to get a signal out to Lars. Just as they do so, the large bird creature from before appears above the dome and tries to break in. Fortunately, Lars arrives just in time to rescue Stevonnie. Stevonnie quickly glances at the window that Pink had smashed and then goes to be picked up by Lars.
Features
Characters
Object
Location
Music
Instrumental Song
Trivia
Cultural References
Continuity
Videos
Transcript
View the episode's transcript here.
Gallery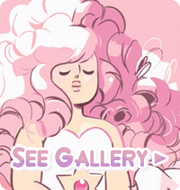 References