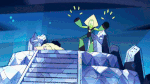 "You have to fix this!"
Spoiler (click to show)
The text or media within the template contains information about an upcoming episode, continue reading at your own risk.
Jerick Hoffer, better known by their drag persona Jinkx Monsoon, is an American reality TV star, actor, and singer. They competed on RuPaul's Drag Race season 5 and successfully won the competition. They will provide the voice for Emerald. [citation needed]
Trivia
Jinkx has confirmed that they identify as "genderless".[1]

In later tweets, they have addressed that they identify as "non-gendered/non-binary" and prefer the use of They/Them to refer to themselves; however, when in their drag persona, Jinkx Monsoon, they prefer to be addressed as She/Her.[1]

Jinkx uploaded a video on YouTube on June 16, 2015 personally asking Rebecca Sugar, the creator of Steven Universe, in the tune of "Giant Woman" to voice a character from the show.[2]
External links
References