It's a Wash is the car wash in Beach City owned and run by Greg Universe, Steven's father.[1] It was first seen in "Laser Light Cannon".
Description
It's a Wash is where Greg lives in his van, as it is almost always seen there. How and when he acquired it has not yet been revealed, although it seems to have replaced his occupation as a rock star after some time. His inspiration to find a job was revealed in "Greg the Babysitter", but he would have had to take ownership at a later date.
The exterior of the car wash houses a logo with an elephant presumably dousing itself with water and the business name. It has two main sections with the car wash being in an 'L' shape and what seems to be an office space being allocated adjoining to the wash. The interior of the car wash has only been seen in "Cat Fingers" but the office space has yet to be revealed.
History
It's a Wash was first seen/revealed in this episode, when Steven asks Greg if he knows the whereabouts of Rose's titular Laser Light Cannon.
It is seen again when Steven is taking a full cat form. They decide to rinse the cats off using the superwash.
A recreated version of the car wash appears in the titular Rose's Room (along with the rest of Beach City).
The car wash makes an appearance as Steven is going to look for his father to rehearse for Beach-A-Palooza. When Steven wishes to go back in time to tell Greg that Yellowtail's boat would get stuck, he appears there at the moment before the accident. Due to Steven's distraction, as well as a miscommunication between Greg and Yellowtail, a power line comes down and It's a Wash is partially demolished and set ablaze. Steven undoes this new timeline, causing the boat to get stuck and cause the initial damage.
The Crystal Gems visit the car wash in where Pearl repairs Greg's Van.
Steven and Greg watch Crying Breakfast Friends! on TV in front of the wash. Steven then convinces Greg to help make a spaceship for Pearl.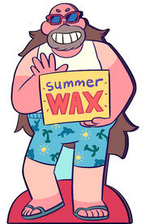 The episode begins at the car wash. Greg and Steven are eating watermelons, and the seeds began growing into Watermelon Stevens the next day.
The car wash is featured as Steven and Connie trick Greg into dressing up to spend more time together. The time lapse showing his different outfits is long enough for them to build a snowman.
Greg offers guitar lessons and has Steven hand out flyers. At the car wash, he sits with his guitar, ready to teach any newcomers.
Steven and Greg hangout in the van while it's parked in front of the wash during a rainstorm.
The episode opens with Greg showing Connie and Steven his vinyl collection, and later on, he tells them the story of how he learned about Gem Fusion in his van outside the car wash.
Greg buys car wash brushes through the internet for a very cheap price for the wash and goes to Keystone to pick them up. This leads to the overnight road trip with Steven & Garnet.
Steven and Sour Cream stop by the wash on their way to the warehouse to take a restroom break. While waiting for Sour Cream's return, Greg tells Steven that business has been slow there. Then Marty shows up in his tour bus, meeting Greg again since their falling out and his son shortly after.
Greg, Steven, and Connie are at Greg's car wash, admiring his newly-bought Dondai Supremo. Kevin pulls up to get his car cleaned, mentions a race happening in the evening, and drives off without paying, though Greg doesn't mind that much since he's rich now. Steven and Connie voice their dislike of Kevin and decide to participate in the race.
Greg tells Steven the story about how he came to work at It's a Wash from babysitting baby Sour Cream. At the time, Greg decided to live independently from Vidalia after babysitting Sour Cream. He found a job at It's a Wash, which was looking for new employees, eventually becoming the owner.
Connie, Peridot, Lapis, and Pumpkin Dog use their combined abilities to wash and dry the cars of Beach City citizens. After Lapis and Peridot get into a fight, the car wash sign is destroyed, leading them to make a new one.
Steven is found at the car wash texting Connie through his phone. While Steven is there, Greg is also found at It's A Wash while trying to untangle a hose. Steven fortunately helped him get the hose off by biting it. After that, Steven expected Connie to text him back, but Ronaldo texts him instead.
Trivia
Within the context of business, "a wash" is a business decision which isn't profitable enough to count as a success but isn't costly enough to count as a failure (i.e. breaking even). This possibly references Greg never being seen having much business and not living particularly well himself, but still seemingly earning enough to support Steven.
It is located at the corner of Waterman and Thayer.
According to "Steven Universe: Art & Origins", It's a Wash was going to be originally a laundry store called "It's a Fold".
Gallery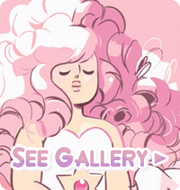 References