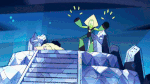 "You have to fix this!"
"Issue 8" is the 8th issue of the 2017 Steven Universe comic series published by KaBOOM! Studios and the 16th issue overall.
Synopsis
When Peridot and Lapis turn their corn field into a "haunted" corn maze, the Gems uncover scares and secrets while trying to solve it![2]
Plot
TBA
Features
Characters
Locations
Cover Gallery
Trivia
This will be the last issue Katy Farina will work on.[2]
References