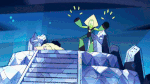 "You have to fix this!"
"Issue 6" is the 6th issue of the 2017 Steven Universe comic series published by KaBOOM! Studios and the 14th issue overall.
Synopsis
Noticing Pearl's temper has been unusually short lately, Amethyst invites her to blow off some steam by joining her to fight tag team at the Beach City Underground Wrestling Ring.[2]
Plot
TBA
Features
Characters
Locations
Cover Gallery
References