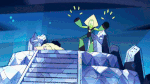 "You have to fix this!"
"Issue 5" is the 5th issue of the 2017 Steven Universe comic series published by KaBOOM! Studios and the 13th issue overall.
Synopsis
Before leaving with Connie to go have fun on the boardwalk, Steven wonders what Lion gets up to when he is not around. We get to see a day in the life of Lion.[1]
Plot
TBA
Features
Characters
Cover Gallery
References