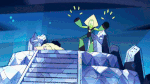 "You have to fix this!"
"Issue 3" is the 3rd issue of the 2017 Steven Universe comic series published by KaBOOM! Studios and the 11th issue overall.
Synopsis
When the local business owners in Beach City start to feel the economic pinch during the tourist off-season, Mayor Dewey and Buck come up with a solution: food trucks![1]
Plot
TBA
Features
Characters
Cover Gallery
References