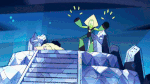 "You have to fix this!"
"Issue 10" is the 10th issue of the 2017 Steven Universe comic series published by KaBOOM! Studios and the 18th issue overall.
Synopsis
Connie and Steven head to the beach to work on a school project, and Amethyst's attempts at helping out lead to some surprises with the animals who live in the water.[1]
Plot
TBA
Features
Characters
Locations
Cover Gallery
References