Gem Pedestals are magical hand shaped objects used as control panels to activate certain objects. They appear in Rose's Secret Armory, Prime Kindergarten Control Room, the Moon Base, and the Ancient Gem Colony Ships.
Appearance
Gem pedestals appear in the shape of a hand, with an insignia designating the owner, that will activate on contact with a compatible user.
Rose's
pedestal has her respective symbol, similar to the one on her
flag
and shield.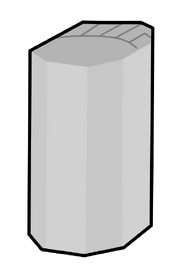 The pedestal in the
Kindergarten
control room has a
Yellow Diamond
symbol on it, and the pedestal in the Moon Base has the four diamond insignia of
the Great Diamond Authority
.
History
In "Lion 2: The Movie", this type of object makes its debut when Lion takes Steven and Connie to Rose's Secret Armory. The pedestal is activated by Steven placing his left hand onto it, and poking or pulling certain parts of his body. The object can give Steven access to Rose's artillery, such as a wide variety of swords, the Axes of Ages, the Armor of the Fallen, the Quartizine Trio, the Heretic's Anguish, and a Robot Shooty Thing as part of a training simulator. A giant penny was there as well, its origin unknown.
The Gem Pedestal appears in "Marble Madness" inside the Prime Kindergarten Control Room. Using a Hand Robonoid, Peridot was able to activate the power in the control room. The pedestal gives the user access to two large hands, a projection (if not activating it directly), as well as the data stored inside the facility. Due to the Crystal Gems destroying the power source, it was rendered useless.
The pedestal in Rose's armory appears again in "Rose's Scabbard". As the confidant of Rose Quartz, Pearl was aware of the contents inside of the armory and how to access it, but since Steven had already used it before he denied her help.
The pedestal inside the Prime Kindergarten Control Room makes another appearance in "When It Rains" to access Peridot's logs that were lost in "Catch and Release" with the disposal of her Limb Enhancers. After restoring power through alternative means, it is shown the pedestal's height can change to fit the user's preference. Through the use of the pedestal, Peridot shows the data of the Cluster Gems, as well as that of the Cluster itself, to Steven.
A third pedestal appears on the third floor of the Moon Base in "It Could've Been Great". Steven first activates the pedestal, then slides over and allows Peridot to sit next to him and use the pedestal to operate the room's control panel. Peridot uses the control panel to find the location of the Cluster and to show a demonstration of the intended result of Earth's colonization.
The pedestal appears on the Centipeetle's ship. Steven activates it which allows them to enter her ship that has two other Centipeetles inside.
Known Locations
Known users