Frybo (character)
Comments

21
682pages on
this wiki
Frybo

Characteristics

Race
Gender

Male

Appearance

Outfit
Accessories

Fries

Professional Status

Affiliation(s)

Personal Status

Status

Inactive

Media

First Appearance

"Frybo"

Voice Actor
"Frybo" was the main antagonist of the similarly entitled episode, "Frybo." Originally a mascot costume representing Beach Citywalk Fries, Steven placed a Crystal shard into it, and the crystal's horrid past turned it into a fast food monster, seeking out people to make them eat fries as it was commanded to do by Peedee Fryman, even if it meant hurting people to do so. In "Rose's Room," Frybo appeared again as a cameo character.
Trivia
Frybo's blood is ketchup (and possibly mustard), despite appearing to have bulging veins and arteries. This is revealed when Pearl disgustedly cries out about being covered in ketchup. As veins are blue in color, this gives the impression that Frybo has blood rather than ketchup and mustard, and may have possibly been alive.
Gallery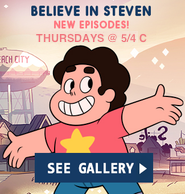 Click here to view the gallery.