Spoiler (click to show)
The text or media within the template contains information about an upcoming episode, continue reading at your own risk.
Emerald is a Homeworld Gem first appearing in an upcoming episode. A preview of this episode was shown at San Diego Comic-Con 2017.
Appearance
Emerald has only been seen on a screen that has a green tint, making her actual colors currently unknown. Through the screen, Emerald has a light-green complexion and has spiky dark-green hair. She has a yellow zigzag tiara-esque bar adorning her forehead that covers her hairline and brows, making it resemble a unibrow. She also has prominently pointy canine teeth.
She has large rectangular 'pads' on her shoulders, as well as a pale furry ruff at the base of her neck. Her green rectangular faceted gemstone is where her right eye would be.
Personality
Emerald is shown to become very agitated when the Off-Colors had crashed her personal ship, snuck into and stole a prized ship from Homeworld, the Sun Incinerator. Her agitation turned into sheer anger when the Off-Colors made fun of her, where she was openly yelling at them through the Sun Incinerator's communicator.
History
Unannounced Episode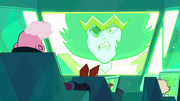 Emerald's fastest ship, the Sun Incinerator, is stolen by Lars and the Off Colors while it was being heavily guarded at the docking bay of Clavia-7. After the Off Colors steal her personal shuttle (crashing it on Upsilon-9), impersonate Imperial officers, and steal the Sun Incinerator, Emerald communicates with and angrily threatens the Off Colors (who have boarded the Incinerator and who soon take off at hyper speed).
Trivia
Emerald is the first full Gem to not be voiced by a woman.
Gemology
Gemstone Information
Emerald is regarded as the traditional birthstone for May as well as the traditional gemstone for the astrological signs of Taurus.
Emerald is a gemstone of the beryl family, which also includes aquamarine and morganite.
Emeralds are also famous for their use in jewelry; they are among the top four most commonly used gems. The other three are diamonds, rubies, and sapphires.
Emeralds in antiquity have been mined in Egypt since 1500 BCE, and India, and Austria since at least the 14th century CE.
| Image | Description |
| --- | --- |
| | Emerald's gemstone is located where her right eye would otherwise be. It is dark-green and rectangular, and has facets around the edge. |
References