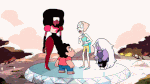 "I don't appreciate your tone."
Please don't add hypotheses in the articles. If you wish to express your opinions, please do so in the
comments
, a
blog
, or the
appropriate board
.
"

The Earth was Pink Diamond's colony. Everything was going smoothly at first. Kindergartens were incubating their first soldiers. Big, warm pieces of Quartz, like this mountain over here, were being created from its rich minerals with great success. Then -- bam! One of Pink Diamond's very own Quartz soldiers started a rebellion and took it too far.

"
—Eyeball, in "Back to the Moon"
Earth, also known as Crystal System Colony Planet Earth, is an abandoned Gem colony planet and the primary location of Steven Universe. Earth contains many native species, with the dominant, sentient species being humans. This Earth exists in an alternate universe; while it is apparently similar, there are many differences.
History
Thousands of years before the current time in Steven Universe, Homeworld Gems led by Pink Diamond came to Earth in order to create a colony and exploit its resources. Rose Quartz believed that this was unfair to the life already present on it, and instigated the Rebellion, which drove the Homeworld Gems from Earth. In the intervening years, Earth has become the home of the Crystal Gems, who continue to protect it from Gem-based threats.
Colony Plans
As shown in "It Could've Been Great" if the colonies were finished, many more structures would have been built, including 89 Kindergartens, 67 spires, and several Galaxy Warp stations. Only 5% of this was completed according to Peridot. In addition, the Earth was to be hollowed out down to the core, with large sections of the crust removed to make the most of its resources. Due to the Rebellion, this plan was abandoned and replaced with the plans to create a geo-weapon: The Cluster.
Differences
Geographical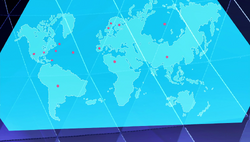 Maps of the globe seen in the show consistently depict significant geographical differences from real life Earth:
Facets
Homeworld Gems appear to have divided up the Earth in different sections, labeling them as 'Facets'. Each Facet name is followed up with a number which differentiates the several Facets. One of the Colony Plans was to have a Galaxy Warp in each Facet.
Social/Political/Historical
There are several historical differences between Earth in the show and Earth in real life.

Environmental
Environmental Influences either caused by the gems or by geological differences.
Gallery
References
Ad blocker interference detected!
Wikia is a free-to-use site that makes money from advertising. We have a modified experience for viewers using ad blockers

Wikia is not accessible if you've made further modifications. Remove the custom ad blocker rule(s) and the page will load as expected.