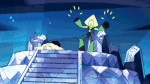 "You have to fix this!"
Danny Hynes is an animator from New Jersey who is currently the lead character/designer on Steven Universe.
He is also known for animating on Venture Bros. Manly, and Robotomy.
Art
External Links
Trivia
Hynes Ketchup is named after him.

Hynes is also a parody of Heinz, the actual ketchup brand.
Ad blocker interference detected!
Wikia is a free-to-use site that makes money from advertising. We have a modified experience for viewers using ad blockers

Wikia is not accessible if you've made further modifications. Remove the custom ad blocker rule(s) and the page will load as expected.