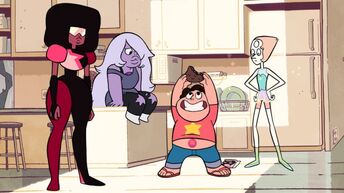 Gems
are a
species
of magical beings with gemstones affixed to their bodies. The
Crystal Gems
are the self-proclaimed title of the guardians of the Earth which distinguishes them from the rest of their kind, as Gems are not from Earth. Each member wears a star symbol somewhere on their clothing - this likely existing as an indicator of one's role as a Crystal Gem.
The group currently consists of the following Gems: Garnet, Amethyst, Pearl, Steven, and the fusion forms of Opal and Sugilite. Though the Gems shown so far have female-like qualities, Gems are a genderless race, with Steven being the first male Gem.  
Current Members
Known Gem Fusions
Former Members
Other Known Gems
Lapis Lazuli: A blue Gem from another planet who has the ability to control water. 
History 
For thousands of years, the Crystal Gems protected both Beach City and the entire Earth. They've defended Earth from many different creatures. Gems have superhuman powers such as shape-shifting, object teleportation, weapon summoning, and Gem fusion. One of the Crystal Gems (and possible former leader), Rose Quartz, gave up her physical form to give birth to Steven. Garnet, Amethyst, and Pearl consider Steven an important member of the Crystal Gems, and the three have taken it upon themselves to raise and teach him how to use his powers.
In several episodes, Pearl references that there are/were many more of their kind, but never elaborates on the absence of other Gems on Earth, implying that they all may have died or disappeared. In the episode "Ocean Gem," it is revealed that there are in fact other Gems, and that most of the monsters that the Crystal Gems have fought are former Gems that had gone corrupt. As of now, only four Gems reside on Earth.
As revealed in ''Space Race'', there are more Gems on different Gem-controlled planets. The Galaxy Warp was the main hub that was used to travel off of Earth to different Gem planets, but currently all the warp pads are broken. This reveals the reason why only four Gems are on Earth, hence the title ''The Crystal Gems''.
Description
All Gems have the ability to summon weapons, shapeshift, as well as the ability to fuse with each other to create more powerful Gems such as Opal and Sugilite. It appears that there are specialized abilities for each individual Gem as well, such as Garnet's abilities to swim in lava and generate electricity. 
In the "Pilot" and "Cheeseburger Backpack," it is implied that the Crystal Gems are over a hundred years old. In "So Many Birthdays" it was full-on unveiled that the Gems are immortal and cannot die of old age and food poisoning (though they can still be killed in battle, presumably if their gem is destroyed). It has also been revealed that when a Gem's body get badly injured, they will disappear and retreat into their gems to regenerate a new physical form. The process can take weeks or longer. Regeneration gives Gems the opportunity to alter their default physical appearance, this including their outfits. It was revealed in "An Indirect Kiss" that if their gem is damaged, their body will go through horrific deformities.
It is implied that Gems themselves could be sentient crystals infused with energy that take on humanoid forms merely for the sake of convenience.
Corrupted and Broken Crystal Gems
In "Ocean Gem'' Pearl reveals that not all Gems are good.
It was revealed that all the monsters fought to the point of "Mirror Gem'' were in fact Gems that became corrupted or damaged. It is unknown what causes them to be like this.
It is possible that the Gems on Earth that have become monsters had the same goal as the Crystal Gems: Protecting humanity, but eventually lost their way and became corrupted.
The reason there are no other known Gems is because they all either turned into monsters and were killed, captured, and contained by the Crystal Gems, or are just not on Earth.
As of "Ocean Gem ", five monsters that have been previously encountered are corrupted gems, they are the following:
Culture
Gem culture is quite different from Earth culture, given the Crystal Gems' confusion over seemingly everyday Earth things such as birthdays and video games. 
The Gem culture is an ancient one, possibly pre-existing the human race.
Pearl points out in "Tiger Millionaire" that, as Crystal Gems, they are not allowed to use their powers on humans.
Wearing a star on one's outfit seems to be the emblem of the Crystal Gems, though this could only apply to the protagonists as Lapis does not appear to have a star on her clothing.
The Crystal Gems have their own written language which is inscribed on many of their temples and which was first seen in Steven's room in the pilot.
Reproduction
It has been confirmed by Rebecca Sugar that normal Gems don't have parents and that they don't naturally reproduce. Rebecca Sugar also confirmed that Rose giving up her physical form to give birth to Steven was extremely unusual for a Gem. This makes sense, as they are an immortal race and therefore breeding is not a priority. Gems also lack reproductive organs. Matt Burnett, however, has stated that this should not imply that romantic relationships can't exist among Gems.
The existence of Steven and the fact that Gems do not have a reproductive system of any sort proves that Gems do not produce offspring by any biological means.
Gender
Gems are not biologically male or female, or have female and male designations amongst themselves. Though, the ones shown so far appear feminine and use feminine pronouns, with Steven being the first male due to his human half. The Gems' usage of gendered pronouns with one another does not deter the fact that they are all just Gems, first and foremost. It does appear they can adopt either a feminine or masculine personality, despite not having sexes. Rebecca Sugar had stated that Gems in general have a 50/50 chance of using pronouns.
Trivia
List of known Gems and their ties to birthstones (by month). [1]

From dialogue in "

Ocean Gem", it is confirmed that Gemkind is different than the Crystal Gems. The Crystal Gems are simply the team of Garnet, Amethyst, Pearl, and Steven, while the species itself are just known as Gems.
All of the Crystal Gems' weapons (including Steven's shield) have the same color scheme as their gem.
Steven is the only member of the Crystal Gems whose skin isn't the same color as his gem, though his skin still exhibits a pinkish hue.
The gems themselves correspond with the Gems personalities.
Their gem placement seems to correspond to their personalities, actions, and how they think.
It is revealed by Pearl in "So Many Birthdays" that gems don't age, but can still die if they are hurt badly enough and are not treated.

This trait does not apply entirely to Steven.

While Gems can't die from food poisoning, they can still get sick to the point of vomiting.

This does not apply to Steven, as he is a hybrid of a Gem. This is demonstrated in "So Many Birthdays," Steven accidentally ages to the point of near-death.

All Crystal Gems to have stars located somewhere on their outfits.
Even though all the Gems have the ability to shapeshift, Amethyst, Steven, and Garnet are the only ones shown demonstrating it so far, with Amethyst performing the ability the most.

Steven may never develop the ability to shapeshift in the same way the Gems do because his body is physical, whereas a Gem's body is more of a "projection" on the physical plane.

It is revealed in "Giant Woman," that the Gems are able to fuse together into even more powerful Crystal Gems. Here are the ones shown so far:
It is revealed in "Steven the Sword Fighter" that Crystal Gems retreat to their gem and lose their physical form when badly injured. It is unknown how long it usually takes for Crystal Gems to regenerate as Pearl's regeneration took about two weeks. Also, when Crystal Gems regenerate their bodies, they can get a new outfit as shown in the aforementioned episode.
According to Rebecca Sugar, Gems do not need to eat or sleep, but they can enjoy doing so anyway.
If multiple gems stay fused for too long or have a fusion with an unstable personality, they can slowly lose their individuality. A prime example is the fusion gem Sugilite from the episode "Coach Steven."
All of the Gems weapons are medieval: Garnet has gauntlets, Pearl has a spear, Amethyst has a whip, Steven has a shield, Lion has Rose's sword, Opal has a bow and arrows, and finally Sugilite has a flail.
The gems themselves seem to correspond with the Crystal Gems personalities.[2]
Rebecca Sugar had said that Gems have a 50/50 change of using gendered pronouns.

This is done regardless to what Gems identify as, as Gems don't have gender designations amongst themselves.
Gallery
References