Crystal Gems

Professional Status

Status

Active

Leader
Members
The "Crystal Gems" are the self-proclaimed guardians of humanity. The title, Crystal Gem, is what distinguishes them from the rest of their kind, the Gems.
The group currently consists of the following Gems: Garnet, Amethyst, Pearl, and Steven. Each member wears a star symbol somewhere on their clothing - this likely existing as an indicator of one's role as a Crystal Gem.  
Current Members
Known Gem Fusions
Former Members
History 
The exact origins of the Crystal Gems are unknown, what is known is that for thousands of years, the Crystal Gems have used these abilities to defend Earth from countless magical threats. However, Rose Quartz, leader of the Gems, and a great admirer of humanity gave up her physical form to give birth to a half-human child, Steven Quartz Universe. The other Crystal Gems, Garnet, Amethyst, and Pearl consider Steven an important member of the Crystal Gems, and the three have taken it upon themselves to raise and teach him how to use his powers.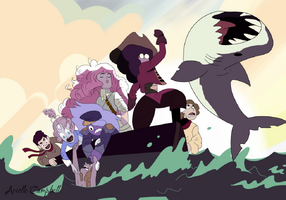 In several episodes, Pearl references that there are/were many more of their kind, but never elaborated on the absence of other Gems on Earth, implying that they all may have died or disappeared. In the episode "Ocean Gem", it is revealed that there are in fact other Gems, and that the monsters that the Crystal Gems fight to defeat are former Gems that had gone corrupt. As of now, only four Gems remain on Earth.
The episode "Space Race" revealed that there are more Gems, but on different Gem-controlled planets. The Galaxy Warp was the main hub that was used to travel off-planet to other planets. Currently, all of the warp pads in the Galaxy Warp are broken.
It is implied that the Crystal Gems may be exiles or outlaws from the rest of Gem society, in "Space Race", Pearl makes it clear the Crystal Gems are trapped on earth. In "Warp Tour" however, the appearance of Peridot and fixing of the warp pads greatly upset the other Gems who began to panic because "they're coming back".
Culture
Pearl points out in "Tiger Millionaire" that, as Crystal Gems, they are not allowed to use their powers on humans.
Wearing a star on one's outfit seems to be the emblem of the Crystal Gems.
Trivia
List of known Gems and their ties to birthstones (by month).
Rose seems to have been an outlier in the gem world, her compassion for other life forms does not seem to be shared by her fellow gems and her love of humanity was seen as unorthodox.
The process for each Gem to summon their weapons depends on a different state of mind for each of them.
Steven is the only member of the Crystal Gems whose skin isn't the same color as his gem, though his skin still exhibits a pinkish hue.
The gems themselves correspond with the Gems personalities.
Their gemstone placement seems to correspond to their personalities, actions, and how they think.
All Crystal Gems to have stars located somewhere on their outfits.

Steven: on his t-shirt.
Garnet: on the chest area of her body suit.
Amethyst: star-shaped holes on her leggings.
Pearl: on her shirt.
Opal: on the draping section of her shirt.
Rose Quartz: star-shaped hole on the stomach area of her dress.
Sugilite: ragged, star-shaped holes on her leggings and painted on her nails.
Alexandrite: special four-pointed star-shaped cutouts on her leggings and star-shaped hair.
Steven may never develop the ability to shapeshift in the same way the Gems do because his body is physical, whereas a Gem's body is more of a "projection" on the physical plane.

According to Rebecca Sugar, Gems do not need to eat or sleep, but they can enjoy doing so anyway.
Gems have the ability to "fuse" with one another. When fused, their physical and mental attributes are combined into one single entity, thus creating a new Gem.

If multiple Gems stay fused for too long or have a fusion with an unstable personality, they can slowly lose their individuality. A prime example is the fusion Gem Sugilite from the episode "Coach Steven."

All of the known Gem weapons are medieval: Garnet has gauntlets, Pearl has a spear, Amethyst has a whip, Steven has a shield, Lion has Rose's sword, Opal has a bow and arrows, and finally Sugilite has a flail.
The gemstones themselves seem to correspond with the Crystal Gems personalities.[1]
Rebecca Sugar had said that Gems have a 50/50 change of using gendered pronouns.

This is done regardless to what Gems identify as, as Gems don't have gender designations amongst themselves.
This is demonstrated in "Ocean Gem", as Pearl called Lapis a "she".

Rebecca Sugar confirmed that each of the Crystal Gems is based off of one the stages of the human emotional development spectrum. [2][3]

Steven is codependent.

Common on most children. This children are dependent on their parents or any adult figures on practically anything and everything, as they are expected to be.

Amethyst is counter dependent; the explorer and rebel, fighting authority even if it's a bad idea.

Common in teens and young adults. People here know that they have free will and will tend to distrust and challenge authority. Known as the rebellious stage.

Pearl is group-dependent; the responsible manager, legalistic to a fault.

Group-dependent people are ready on taking on responsibilities and expects others to be group-dependent as well. Tends to be obsessed with the notions of obligation and duty.

Garnet is independent; free to take on the burdens of others, can be a bit reckless, and is understanding of the growth that risk-taking can give as well as its limitations.

Tend to be merciful, and kind, and generous. They will help people because they want to, and they will not help people because they want to.

One can also argue that Rose Quartz is transcendent; kind and loving to a fault. Uses everything on her power to help those in need.

Master of Empathy. Understanding in all situations and acts accordingly to the given situation. Merely acts to the best of their ability, understanding the limitations of their own understanding. But in being emotionally mature their actions tend to flow out in proper response to most any situation. Sympathetic when they should be. Angry when they should be. Forgiving when they should be.
Gallery
References