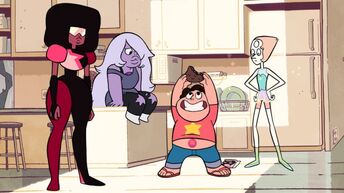 The
Crystal Gems
(or
Gems
) are a
species
of magical beings with gems affixed to their bodies. This species includes the following Gems: Pearl, Garnet, Amethyst, Lapis Lazuli, Steven, and with the fusion forms of Opal and Sugilite. The Gems are a genderless race (though the Gems shown so far have female-like qualities), with Steven being the first male Gem. They are all powerful beings that play the role of protecting humanity.  
Current Members
Known Gem Fusions
Former Members
Other Known Gems
History 
For thousands of years, the Crystal Gems protected both Beach City and the universe. They defended Earth from many different creatures. They have superhuman powers like transformation, bubble shields, weapon summoning, and Gem combination. In many episodes, Pearl references that there were many other Gems, but they may've died or disappeared. In the episode "Ocean Gem" it is revealed that there are in fact other gems, and that many of the monsters that the Crystal Gems are seen fighting are former gems. One of the Gems, who could've been the leader, Rose Quartz, gave up her physical form to give birth to Steven. As of now, there are four Gems, three female Gems, and one male Gem. It appears that all the Crystal Gems are named after the stone that gives them their powers, given that the names Crystal Gem or Gem can refer to their kind or said stone, with the exception of Steven. Steven's Gem is a Rose Quartz which he inherited from his mother, whose name was Rose Quartz, giving more proof to this point.
Description
All of the Gems have the ability to summon weapons and shapeshift, as well as the ability to fuse with each other to create Gems such as Opal and Sugilite. It appears that they have specialized abilities as well, so to bring Steven into the world. 
In the "Pilot" and "Cheeseburger Backpack," it is implied that the Crystal Gems are over a hundred years old. In "So Many Birthdays" it was full-on unveiled that the Gems are immortal and cannot die of old age (though they can still be killed in battle if their gem is destroyed). Crystal Gems are also immune to dying from food poisoning. Also, it has been revealed that when gems get badly injured, they will disappear and retreat into their gems so they can regenerate a new physical form. The process can take weeks or longer. There is also a chance they will have different outfits with their new body. It was also revealed in "An Indirect Kiss" that if their gem is damaged, their body will go through horrific deformities.
It is implied that the Gems themselves are just gems, and that they could be sentient crystals infused with energy that take on a human form for the sake of convenience.
Corrupted and broken Crystal Gems
In "Ocean Gem" Pearl reveals that some of the Gems are not good.
It was revealed that all the monsters fought to the point of "Mirror Gem" were in fact Gems that became corrupted or damaged. It is unknown what causes them to be like this.
It is possible that the Gems (on earth) that have become monsters had the same goal as the crystal gems: Protecting humanity, but eventually lost their way and became corrupted. It can also be assumed that they didn't want to stay on earth and left.
It can be speculated that the reason there are no other known Gems is because they all turned into monsters and were killed, captured, and contained (like Lapis), or just not on earth.
Culture
Reproduction
It has been confirmed by Rebecca Sugar that normal Gems don't have parents and that they don't naturally reproduce. This makes sense as they are an immortal race so breeding is not a priority. Rebecca Sugar also confirmed that Rose giving up her physical form to give birth to Steven was extremely unusual for a Gem.
Since they do not breed they likely do not have any form of courtship.
The existence of Steven proves that they are compatible with other species (or at the bare minimum humans).
Gender
Though the ones shown so far look and sound female, the Crystal Gems are a genderless race with Steven being the first male Gem. This is due to him being half-human.
Trivia
Gallery
References