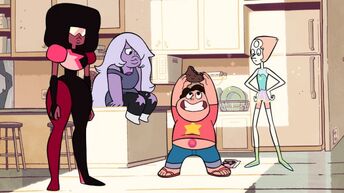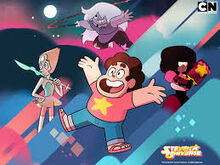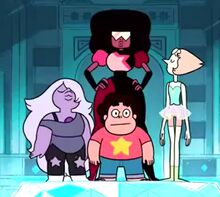 The Crystal Gems are the self-proclaimed guardians of humanity. The title, Crystal Gem, is what distinguishes them from the rest of their kind, a species of magical alien beings, known as Gems, with powerful gemstones affixed to their bodies.  
The group currently consists of the following Gems: Garnet, Amethyst, Pearl, and Steven; and the fusion Gems: Opal, Sugilite, and Alexandrite. Each member wears a star symbol somewhere on their clothing - this likely existing as an indicator of one's role as a Crystal Gem. Though the pure Gems shown so far all have female-like qualities, Gems are a genderless race, with Steven being the first male Crystal Gem.  
Current Members
Known Gem Fusions
Former Members
Other Known Gems
History 
All Gems have superhuman powers such as shape-shifting, object teleportation, weapon summoning, and Gem fusion. For thousands of years, the Crystal Gems have used these abilities to defend the planet Earth from countless magical threats. One of the Crystal Gems (and possible former leader), Rose Quartz, gave up her physical form to give birth to a half-human child, Steven Quartz Universe. Garnet, Amethyst, and Pearl consider Steven an important member of the Crystal Gems, and the three have taken it upon themselves to raise and teach him how to use his powers.
In several episodes, Pearl references that there are/were many more of their kind, but never elaborated on the absence of other Gems on Earth, implying that they all may have died or disappeared. In the episode "Ocean Gem," it is revealed that there are in fact other Gems, and that the monsters that the Crystal Gems fight to defeat are former Gems that had gone corrupt. As of now, only four Gems remain on Earth.
As revealed in ''Space Race'', there are more Gems on different Gem-controlled planets. The Galaxy Warp was the main hub that was used to travel off of Earth to different Gem planets, but currently all the warp pads are broken. This reveals why only the Crystal Gems reside on Earth.
Culture
Gender
Gems are not biologically male or female, or have female and male designations amongst themselves. The ones shown so far appear feminine and use feminine pronouns, with Steven being the first male due to his human half. The Gems' usage of gendered pronouns with one another does not deter the fact that they are all just Gems, first and foremost. Rebecca Sugar had stated that Gems in general have a 50/50 chance of using pronouns.
Trivia
Gallery
References