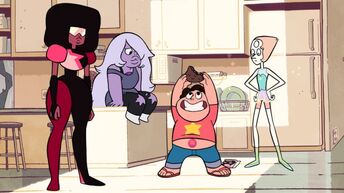 The Crystal Gems are a species of guardians who protect humanity.
Current Members
Edit
Former Members
Edit
Rose Quartz: Steven's mother and former member/leader of the crystal gems.
For thousands of years, the Crystal Gems protected both Beach City and the universe. They defended Earth from many different creatures. They have superhuman powers like transformation, bubble shields, weapon summoning, and Gem combonation.  In many episodes, Pearl refrences that there were many other Gems, but may've died or dissapeared. One of the gems, who may've been the leader, Rose Quartz, gave her physical form to give birth to Steven. As of now, there are four Gems, three female gems, and one male gem. 
Description
Edit
All of the Crystal Gems have the ability to summon weapons and shapeshift, as well as the ability to fuse with each other like Opal who appeared in the episode Giant Woman. It appears that they have specialized abilities as well, so to bring Steven into the world. It's unknown if this applies to every Gem, should they want to have a child. Rose passed her gem, a rose quartz, to Steven.
In the "Pilot" and "Cheeseburger Backpack," it is implied that the Crystal Gems are over a hundred years old. It is possible that there are more Crystal Gems because Pearl mentioned that there were many Gems on Earth in the past. Also, it is implied by Pearl that gems do not age, but can get killed while in battle.Crystal gems are also immune to dying from food poisoning.
All of the Crystal Gem's weapons (including Steven's shield) have the same color scheme as their gem.
Steven is the only member of the Crystal Gems whose skin isn't the same color as his gem.
Their gem placement seems to correspond to their personalities, actions, and how they think.
While Gems can't die from food poisoning, they can still get extremely sick to the point of vomiting.

This does not apply to Steven, a half-Human, half-Gem. In "So Many Birthdays," Steven accidentally ages to the point of near-death.

In So Many Birthdays, in the photo, it is unknown if the other people are human or Crystal Gems.
All Gems seem to have stars hidden somewere on their outfits.
Even though all the Gems have the ability to shapeshift, Amethyst is the only one shown doing it so far.