The Crystal Basilisk is an unofficial name for some sort of animal that was eaten by Lion. Its first, and probably last appearance was on "Lion 2: The Movie".
Appearance
The Crystal Basilisk has both avian and reptilian biology. It has the back half of a lizard, and it appears that its front half had feathers, as Lion coughed out feathers when he was eating one. It is named after the faceted, crystalline dorsal spines growing on its backside.
Trivia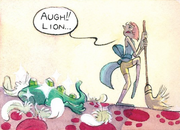 Ad blocker interference detected!
Wikia is a free-to-use site that makes money from advertising. We have a modified experience for viewers using ad blockers

Wikia is not accessible if you've made further modifications. Remove the custom ad blocker rule(s) and the page will load as expected.