This article is about the object. For the song, see Cookie Cat (song) and for the character, see Cookie Cat (character).
"Cookie Cat" is an ice cream sandwich product that first appears in "Gem Glow". The product was discontinued at the beginning of this episode because of the success of its competitor, Lion Lickers.
Appearance
The pink wrapper of the ice cream sandwich has an image of a grinning cat with half pink half white teeth and eyes. It is a half vanilla, half strawberry flavored ice cream sandwich, and is shaped in the image of the product's mascot, Cookie Cat. Cookie Cats are different from ordinary ice cream sandwiches in that they are shaped like cat heads, and feature two flavors of ice cream — one half of the ice cream is strawberry, while the other half is vanilla.
Episode Appearances
Cookie Cats are Steven's favorite ice cream sandwich, but Lion Lickers, a similar ice cream product, drives them off the shelves at the Big Donut. The Crystal Gems had visited multiple stores and "stole a bunch", according to Amethyst, but Pearl adds that she returned and payed for them all. Garnet claimed it was all her idea. They stashed many Cookie Cats in their freezer for Steven, but in order to save the Crystal Gems, Steven thought that if he ate them all, he might be able to summon his shield.
The Cookie Cat company plays a theme song in their commercials. Steven sings and hums the theme several times throughout the episode. Steven originally believed that the ice cream sandwiches made his gem glow due to the fact that his gem begins to glow when he eats them, but this turns out to be a mere coincidence.
After warping back home, Steven looks at his reddish-pink Cookie Cat shaped alarm clock after it alerts him that it is time for Beach-a-Palooza.
A new Cookie Cat song can be heard in the soundtrack "After These Messages" when Greg and Steven talk.
A black Cookie Cat alarm clock is seen on Steven's nightstand.
In one of Steven's imaginary death scenes, he imagines Cookie Cat returning, now evil, in a spaceship and zapping him to death.
The treat makes its appearance while Uncle Grandpa explains to Steven how he was there during "Gem Glow" when he attempted to sing the Cookie Cat Jingle to activate his Gem. He breaks the fourth wall here, appearing on the small Cartoon Network banner below. Uncle Grandpa was not actually present in the episode.
Trivia
Gallery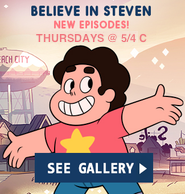 Click here to view the gallery.