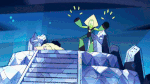 "You have to fix this!"
Cartoon Network: Battle Crashers is a crossover game for the PlayStation 4, Xbox One, and Nintendo 3DS. It was released on November 8, 2016. It features Steven Universe as a playable character alongside other popular Cartoon Network characters:
Description
Join Gumball, Steven Universe, Finn, Mordecai, Clarence and Uncle Grandpa on a crazy interdimensional adventure! Use each character's unique attacks and special moves to fight your way through all the levels. Take on the single-player challenge or grab up to 3 friends for multiplayer action![1]
Trivia
This is the first time Steven Universe (or a character from Steven Universe) has appeared in a console game.
Videos
Gallery
References