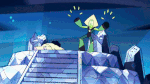 "You have to fix this!"
The Buddwick Public Library is a public library founded by Buddy Buddwick that first appeared in Buddy's Book.
History
After Buddy Buddwick was inspired after Rose Quartz asked if he considered becoming an author to write books, he has written enough to fill a library with his work. That is how Buddwick Public Library came to be.

Trivia
There is a painting of the real Buddy Buddwick on the library wall.
Gallery
References
Ad blocker interference detected!
Wikia is a free-to-use site that makes money from advertising. We have a modified experience for viewers using ad blockers

Wikia is not accessible if you've made further modifications. Remove the custom ad blocker rule(s) and the page will load as expected.