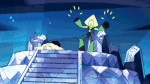 "You have to fix this!"
Brian George is an actor who provides the voice for Quentin Frowney in Steven Universe.
Information
Brian George (born July 1, 1952) is an Israeli actor/voice actor best known for playing Babu Bhatt on the sitcom Seinfeld. He also plays the father of Raj Koothrappal on the sitcom the Big Bang Theory.
External Links
References
Ad blocker interference detected!
Wikia is a free-to-use site that makes money from advertising. We have a modified experience for viewers using ad blockers

Wikia is not accessible if you've made further modifications. Remove the custom ad blocker rule(s) and the page will load as expected.