Biggs Jasper, also known as the Orange Great North Monster, is a Corrupted Gem and former Crystal Gem that first appeared in the episode "Gem Hunt". She was held captive by Jasper until "Crack the Whip", where she was poofed by Amethyst and bubbled by Steven. She was mentioned twice by Bismuth in the episode of the same name. She was released by Bismuth, who was unaware of her corruption status, in "Made of Honor". She was poofed by Bismuth and bubbled again by Steven in the same episode.
Personality
In "Made of Honor", Bismuth says she was beloved by everyone. However, like all other Corrupted Gems, Biggs has no memory of her former self, as shown when she attacked her friend Bismuth without hesitation.
Appearance
Biggs Jasper, while corrupted, is a giant wolf-like creature with three horns. She has a mixture of brown-orange colors, with designs similar to that of a real Biggs Jasper gemstone. In "Earthlings", Jasper believed the Snow Monster to be a Quartz Gem like herself, implying that the Orange Great North Monster was too. Her gemstone type was confirmed in "Made of Honor" by Bismuth.
History
She and the Snow Monster are shown roaming the Great North and trying to evade Jasper. She is eventually found, poofed, and taken prisoner by Jasper alongside the other monster.
She and the other monster are used in an attempt to attack the Crystal Gems. She initially attempts to attack Steven and Connie, but Amethyst restrains her before she can reach them and poofs her. Steven bubbles her gemstone and warps it to the Burning Room.
She is mentioned by Bismuth twice.
Upon seeing the Burning Room, Bismuth takes note of several Crystal Gems bubbled, including Biggs. She pops the bubble containing Biggs Jasper's gemstone, causing her to reform and attack Steven and Bismuth. Steven puts up his bubble shield to protect them, but she then breaks it. Before Biggs Jasper can harm the two of them, Bismuth blocks her attack and then poofs her once more, allowing Steven the opportunity to re-bubble the Gem.

Episode Appearances
Relationships
Biggs Jasper, as a member of the Crystal Gems before being corrupted, was friends with Bismuth. Once Bismuth is first freed from her bubble (5,000 years after being poofed and having missed the rest of the War), Bismuth asks about the whereabouts of some of her closest Crystal Gem friends, including "Biggs". Later, in "Made of Honor", Bismuth mentions that "Biggs was beloved by everyone." Bismuth frees Biggs from her bubble, only to find out that Biggs has become corrupted. Biggs Jasper, now monstrous and hostile, attacks Steven and Bismuth, who then attacks and poofs her former friend.
Trivia
Rebecca Sugar confirmed at New York Comic Con 2016 that the Snow Monster and similar corrupted Gems, such as Biggs, are types of jasper.[1]
Biggs is the second corrupted Gem to have their name / Gem type revealed within the series (unlike Watermelon Tourmaline, whose name was only revealed by Ian Jones-Quartey on Tumblr).[2] The first was Desert Glass.
Although she is a biggs jasper, the circular styles on this Gem's gemstone somewhat resemble the appearance of real-life Bruneau jasper.

However, her skin has the "layered" appearance of real biggs jasper.
| Image | Description |
| --- | --- |
| | Biggs Jasper's gemstone location is on the middle of her chest. The gemstone appears to possess a hexagonal shape with several designs of brown and orange around the gemstone. |
Gallery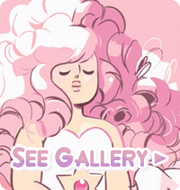 References