Ben Levin is former a writer, story editor, and songwriter for Steven Universe. As a writer, he is responsible for writing up episode outlines, which provide the story frameworks for episodes which the storyboard teams then build off of.[1] He and Matt Burnett left the show after their series "Craig of the Creek" was greenlit by Cartoon Network.[2]
He is also the creator of an online mini-series called Doris and Mary-Anne Are Breaking Out Of Prison, which has the same, or at least similar, art style as Steven Universe.
Accredited Works
Ben Levin is a former staff member as a writer and editor for this work.
Doris and Mary-Anne are Breaking Out of Prison
Ben Levin is the creator of this work.
Ronin Dojo
Ben Levin is the creator of this work.
External Links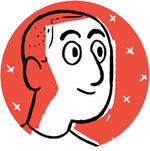 Contact Info
E-mail
Representatives
Yuli Masinovsky at Silver Lake Entertainment
References
Ad blocker interference detected!
Wikia is a free-to-use site that makes money from advertising. We have a modified experience for viewers using ad blockers

Wikia is not accessible if you've made further modifications. Remove the custom ad blocker rule(s) and the page will load as expected.