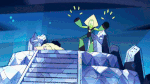 "You have to fix this!"
"

Even if there was nothing we can do for that one patch of land, there's still a whole Earth blooming all around us.

"
—Steven
"Back to the Kindergarten" is the 8th episode of the fifth season of Steven Universe and the 136th episode overall.[2]
Official Synopsis
Steven, Amethyst and Peridot try to spruce up the Kindergarten.[3]
Plot
To make Peridot feel better after Lapis leaves Earth, Amethyst and Steven try to make her feel better by traveling to the Prime Kindergarten. At the Kindergarten, Peridot shows Amethyst which hole belongs to which Gem of the "Famethyst". Then, they find a "flower" and all think that life can grow again at the Kindergarten. So, they start planting sunflowers, but it doesn't work, making Peridot feel bad. Peridot is now depressed and disgusted about the Kindergarten due to the fact that its rendered the land around its lifeless to the point of plant life cannot survive. Also, the flower that they found before turned out to be a corrupted Gem and Steven and Amethyst form Smoky Quartz to poof and bubble the monster. Amethyst and Steven admit Peridot was right about the Kindergarten being unsalvageable but show her that while the Kindergarten is beyond repair, the rest of the world isn't.
Features
Characters
Objects
Locations
Music
Instrumental Songs
Trivia
This is the first time Smoky Quartz has bubbled a Gem.
Peridot reveals new knowledge of the Kindergarten: the hairstyle of the Gem who emerges is based on iron deposit formation, and the Gem's full "name" and the number is labeled from top to bottom of the rock foundation.
Cultural References
Much like "Back to the Barn", and "Back to the Moon", the name of this episode could be a reference to "Back to the Future".

Additionally, it seems to specifically mirror the episode "Back to the Barn" in the title. While "Back to the Barn" features Peridot's first contact with the barn, Back to the Kindergarten features her first time without it after Lapis takes it.

The lone flower on the Flower Monster seems to be a reference to the Silent Princess, a flower previously thought to have been extinct, from the video game Legend of Zelda: Breath of the Wild, as they both have similar design and seemingly grow against all odds.
Continuity
Errors
The functions of the play and pause button on Peridot's tablet are reversed.
When Amethyst rushes to Peridot's help after the latter has been attacked by the corrupted Gem, she has her whip out, but in the next shot, she is seen summoning it again.
When Amethyst says "Yeah, we got the subtext," her left arm is the color of her hair.
Transcript
View the episode's transcript here.
Gallery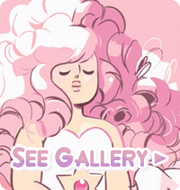 Videos
References