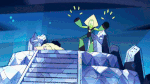 "You have to fix this!"
Aparna Nancherla is an American actress and comedian. She provides the voice for Nephrite in her uncorrupted state.
She has written for shows such as Totally Biased and Late Night with Seth Meyers and worked on several web series. Aparna is also the co-creator of Womanhood with fellow comedian, Jo Firestone. She has had many acting roles, previous voice acting roles include Kishy from Ginger Snaps and Hollyhock Manheim-Mannheim-Guerrero-Robinson-Zilberschlag-Hsung-Fonzerelli-McQuack from BoJack Horseman.
Roles
Trivia
External Links